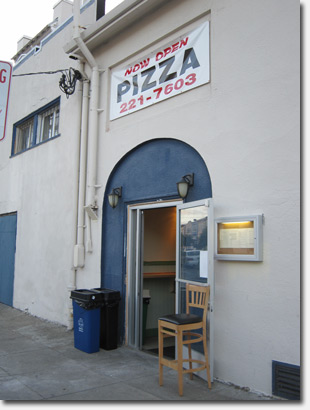 There's a new pizza place in town – "Firehouse Pizza" – located at the back of Appel & Dietrich Market on the corner of 22nd Avenue and California.
It opened about 2 weeks ago and is owned and operated by the market's owner. The menu offers a wide variety of starters, pizzas and for the more creative, a "build your own pizza" menu offering nearly two dozen options.
I didn't get to try the pizza when I stopped by on Sunday, but they described it as "east coast style" with a thinner crust.
The starter menu features some tasty items, including garlic knots, a staple of east coast pizzerias. They are twisted breadsticks with garlic and butter at their core. You can also pick up cheesy bread ("very popular with the kids!"), buffalo wings or a salad.
The specialty menu includes a spicy bacon cheeseburger pizza with garlic butter, extra ground beef, jalapenos, bacon and cheddar. They also offer a Greek Pesto pizza featuring basil pesto, baby spinach, feta and black olives. The helpful man behind the counter said the BBQ chicken pizza, which includes bacon, was his personal favorite. Specialty pizzas start at $12.99 for a 10 inch, up to $22.99 for a 16 inch.
And if you're into more traditional options, or have a favorite combo of your own, just order off the build your own menu, which starts at $3.99 plus $.50 for each topping on a 6 inch pizza, up to $14.99 plus $1.50 per topping for a 16 inch.
Firehouse Pizza, located at 6001 California Street, is open daily from 4pm until 10pm. There's minimal seating inside at a countertop, so it's definitely designed to be a take-out spot. They also offer free delivery (221-7603).
Have you tried their pizza? If you have, leave a comment to let us know how it is!
Sarah B.