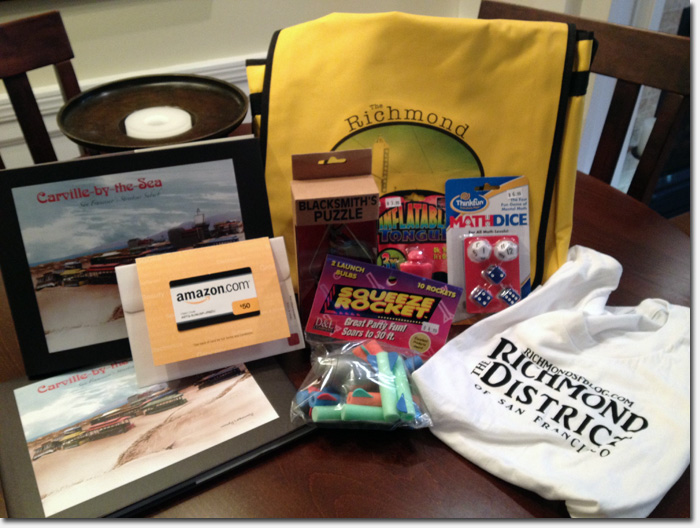 Hi everyone,
'Tis the season for giving so we reached into our Richmond District Blog treasure chest to put together some fun items for this year's giveaway. Like last year, Kookle Toys on Clement contributed a nice gift bag as well.
Here's what's in store for our lucky winners:
A Kookle Toys gift pack including a Blacksmith's Puzzle, a bag of entertaining squeeze rockets (annoy your relatives!), and other assorted fun toys.
$50 Amazon gift certificate (our prize for being a CBS Most Valuable Blogger thanks to your votes!)
A copy of the book "Carville-By-The-Sea", a great 144-page photo essay on the bohemian settlement that lived in old transit cars out by Ocean Beach in the early 1900s. We've got two to give away.
A Richmond District messenger bag, available from the Western Neighborhoods Project store.
And every winner also receives a Richmond District Blog t-shirt and snazzy, eco-friendly logo pen.
How to enter you ask? Just fill out this form by 5pm on Wednesday, Dec. 21 and we'll pick five winners at random.
Good luck and Merry Christmas. And as always, thanks for reading the blog!
UPDATE: Congratulations to Louise S., Melissa B., Sharon S., Jamie O. and Jimmy L. for winning one of the prizes!
Sarah B.