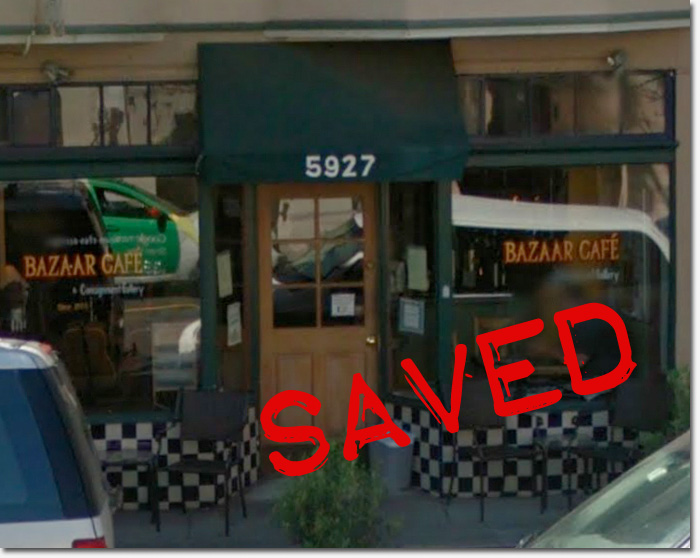 Just after Christmas, the Bazaar Cafe on California near 22nd Avenue sent an email to its patrons and supporters, letting them know they were in danger of closing due to tough financial conditions. They asked for help via donations to raise the needed $7,000.
That seemed like a tall order given the state of our economy and it being the tail end of the holiday season. But not only did they receive what they needed, they exceeded their goal quite handily, raising nearly $20,000 from just 212 donors.
"As I begin to write I find that I am struggling to find words to adequately express our appreciation to all of you. The words "thank you" seem small in measure for what you have done for us, but let's start with that… THANK YOU," the cafe wrote on their website.
When we published the story last weekend, many were skeptical, commenting that if the cafe couldn't stay afloat on their own, shouldn't they just go out of business? It's a fair point, but clearly the Bazaar Cafe has enough fans and neighbors that want to see it succeed. Or perhaps those neighbors just don't want to see another empty storefront in the neighborhood, and appreciate a small cafe that offers a cozy place for a cup of coffee and live music.
"It's incredible that this little cafe has touched so many lives and got so much in return. As a longtime regular (first place I played music, and I met my husband/got married in their garden!) – I am in awe," wrote RichmondSFBlog reader Robin when she sent us the news.
Owners Les and Makiko say they will use the extra money raised to make needed improvements to the cafe, including repaired and improved lighting for the garden and improved signage to start. They'll also tuck some away in case there's another rainy day.
The cafe also has plans to ensure a brighter financial future for the cafe, including holding several benefit concerts in the coming year. They've also established a tax-exempt nonprofit foundation – Bazaar Foundation for the Arts, Inc. – to help fund "concerts at schools, libraries and other nonprofit and for profit spaces by paying, thus supporting, local songwriters and other musicians."
While there may not be a Santa Claus, it looks like our community was ready to fill his shoes for the cafe this season. Well done, Richmond District.
Sarah B.