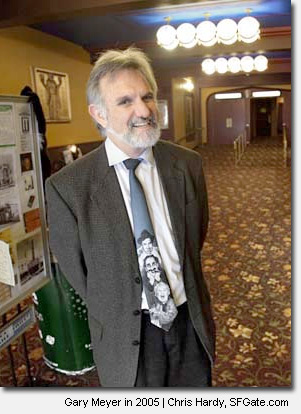 Last night, CinemaSF – the new name for the two theater chain of the Balboa and Vogue Theaters – sent out a newsletter that included a long sign-off letter from the Director of the Balboa, Gary Meyer.
Meyer has been running the Balboa Theater since 2001, when he took over management from the Levin family owners. At the time, the Balboa was showing second run movies and barely making ends meet. Meyer knew he needed to take on a different strategy to revive the old movie house, which had been in business since 1926.
"With an enthusiastic staff led by General Manager Roger Paul we made a commitment to showing quality movies, offering excellent customer service, creating an informative website and a weekly newsletter. We set out to build an audience and sense of community. Prices would be among the lowest in town both at the box office and concession stand while upgrading the experience for audiences. We would have filmmaker and author visits, special events, contests and fun."
Since taking it over, Meyer has built a loyal audience for the theater and made it a thriving part of the Richmond District community. He's also brought some exciting, innovative programming to the theater ranging from the premieres of historic documentaries, screenings of operas and ballets, special award show screenings for the Golden Globes and Oscars, along with community building events like free HD viewing of the Superbowl just last week.
It was last July when Meyer first announced that he would be stepping down from his leadership post at the Balboa. At the time, the longevity of the theater was in question. But before he departed, Meyer worked with the The San Francisco Neighborhood Theater Foundation to arrange for them to take over the Balboa's lease through 2024. The SFNTF will also help fund improvements to the Balboa like a refurbished marquee, a new heating system, and seats. Some of the changes have already taken place.
In his closing letter, Meyers says his other cinematic commitments have made it tough to manage the Balboa full-time. "The work involved in operating independent cinemas takes a commitment of time, energy and fresh ideas. It has become increasingly difficult for me to do my best contributing these things while doing my full time job as Co-Director of the Telluride Film Festival."
Filling his ample shoes will be Adam Bergeron and Jaimi Holker, a husband and wife team who describe themselves as "dyed-in-the-wool movie buffs". They approached Meyer last year about getting involved with the theater.
"After spending time with them it was clear that they had the passion required," Meyer write. "Adam has business experience running and marketing a restaurant and producing many music events each year. Jaimi has an accounting background and currently is a production designer for movies and television. And they both have high energy and creative ideas."
Adam and Jaimi will also manage the Vogue Theater with help from Roger Paul who will stay on as General Manager. The Vogue was taken over by the SFNTF four years ago to save it from closing.
In their first letter to theater supporters, Adam and Jaimi wrote "We will strive to provide you with movies and events you will love in an authentic and charming setting, and we may even have a few tricks up our sleeve as time goes on." They closed with a quote from the 1971 film Harold and Maude: "*Reach* out. Take a *chance*. Get *hurt* even. But play as well as you can. Go team, go! Give me an L. Give me an I. Give me a V. Give me an E. L-I-V-E. LIVE!"
The two theaters will also employ Jan Klingelhofer to book films. Meyer will also stay on as a consultant to SFCinema, helping them plan the future for both the Balboa and the Vogue Theaters.
Check out the new CinemaSF website here and when you stop by the Balboa, be sure to welcome Adam and Jaimi to the neighborhood!
Gary Meyer will still be around at times (like at the Balboa's 86th birthday bash on March 4), saying in his letter, "I look forward to seeing many of you but this time I will be with you in the audience."
Sarah B.