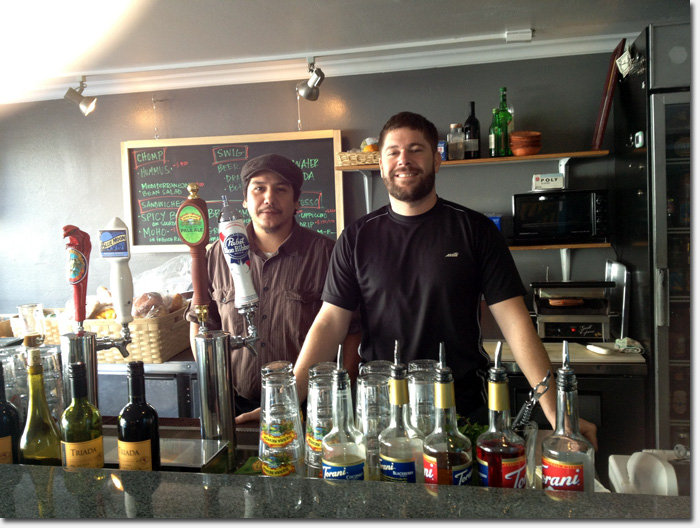 Albert (L) and David, co-owners of the new Chomp N' Swig cafe on Clement
On Saturday during a neighborhood stroll, I was pleased to see the doors had re-opened at 1541 Clement Street. Cafe Mereb closed a few weeks ago, but newcomer Chomp N' Swig has breathed fresh life into the small space.
Friendly owners David and Albert are new to the restaurant business. David was behind the bar when I arrived and Albert was busy making espressos and grilled cheese sandwiches.
They did a great job of transforming the run-down cafe space; it's amazing what paint and new furniture can do. Now there's a bar you can step up to, a fun mural on the wall, and high, communal dining tables. There's also two screens in the cafe, with plans to show the big games of the day. "We're getting our cable installed next week," David said.
Chomp N' Swig has only been open a week but neighbors are already popping in to check out the new establishment. The menu is small to start featuring $5.50 – $6.50 sandwiches like spicy beef, grilled cheese and "BBQ Chomp" filled with slow-cooked pork shoulder topped with slaw on a brioche roll. Sides dishes are hummus and pita, bean salad or potato chips.
The cafe is definitely targeting the beer and sandwich crowd. Beers on tap include Blue Moon, Sierra Nevada, and Pabst Blue Ribbon (see the full beer menu). Happy hours take place every weeknight from 3pm until 7pm, and on Fridays and Saturdays, they're planning a "reverse happy hour" from 7pm until 11pm. Also available at the bar are Soju cocktails, a liquor with a taste comparable to vodka that can be mixed with other beverages.
David said their cooking is fairly restricted due to a limited kitchen (and stringent city codes), so they're focused on serving slow-cooked foods and easy prep items. "We plan to add to the menu as we go," David said. Bread pudding will be their first dessert item.
The cafe opens early at 7am, offering coffee and pastries for now. David says they are targeting a weekend brunch menu as well.
I didn't have a chance to sample any menu items while I was in there. But one diner left a thumbs up review on the cafe's Facebook page: "Just had a PBR and the spicy beef sandwich. Yum! Friend had the Moho sandwich. Double Yum. Definitely coming back here. Cool neighborhood vibe. Just what the doctor ordered."
I told David that when we posted about their planned opening here on the blog, one commenter was less than thrilled with their "vivid" name. "Oh no!" he said, laughing. You can blame the name on Albert's wife – she came up with it. It could have been worse – "Chug & Chomp" was another contender.
Chomp N' Swig is located at 1541 Clement Street and is open daily from 7am until 9pm, late until 11pm on Thursday, Friday and Saturday. Stop in and welcome them to the neighborhood!
Sarah B.