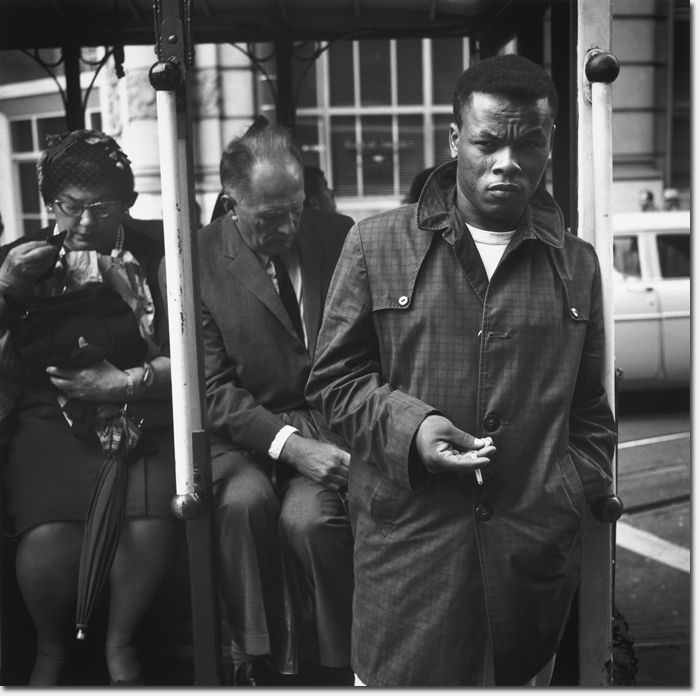 Arthur Tress, Untitled (Powell Street), 1964.
In 1964, Arthur Tress was 23, just out of college and traveling through Mexico. He took a 3 day bus ride to come to San Francisco and stay with his sister, Madeleine.
It was an interesting time to be visiting liberal San Francisco. The Republican National Convention was taking place, the Beatles were on their first tour of the states, and civil rights demonstrations were taking place on Auto Row. The entire country was on the verge of social change.
Tress had graduated with a degree in Fine Arts from Bard College, and photography was something he just picked up afterwards. Armed with a Hasselblad camera, Tress criss-crossed the city, capturing candid portraits of city life and happenings, staging shots at other times.
He managed to convince a small gallery in Sausalito to display his photos in 1964, which he printed at a communal darkroom in the Castro. After his sister passed away after living for 40 years San Francisco, Tress rediscovered some prints in her basement from his gallery showing.
He then casually mentioned to the de Young curators that he had some local photos that they might be interested in seeing. Little did they know how compelling the photos would be, offering an insightful snapshot of that time period that makes up the latest photography exhibition at the de Young, Arthur Tress: San Francisco 1964.
Tress' 70+ photos include a few typical city landmarks in them like Coit Tower, Ocean Beach, cable cars. But it's the people that he was more interested in capturing at the time. He thought of himself as an "activist photographer", and that the photographs he was taking would "become an element of social change". But he also admits, "I was just an enthusiastic kid, taking lots of pictures."
He talked his way into the Republican National Convention that took place at the Cow Palace in July 1964, taking photos of delegates, propaganda and demonstrators, some holding signs that screamed "Ringo for President!"
Tress remembers it "required a certain aggressiveness" to capture the shots, and as a result felt himself becoming a participant. "I was part of the crowd, not outside the crowd… I'm very intense as a person and as a photographer, and in shooting these rallies I worked at a very high speed, trying to capture that significant moment or gesture."
The show also features an odd, distorted photograph of a candidate's poster which the museum later discovered is actually George Romney, father to current Republican Presidential candidate Mit Romney. Romney went up against Goldwater for President that year, but did not secure the party nomination.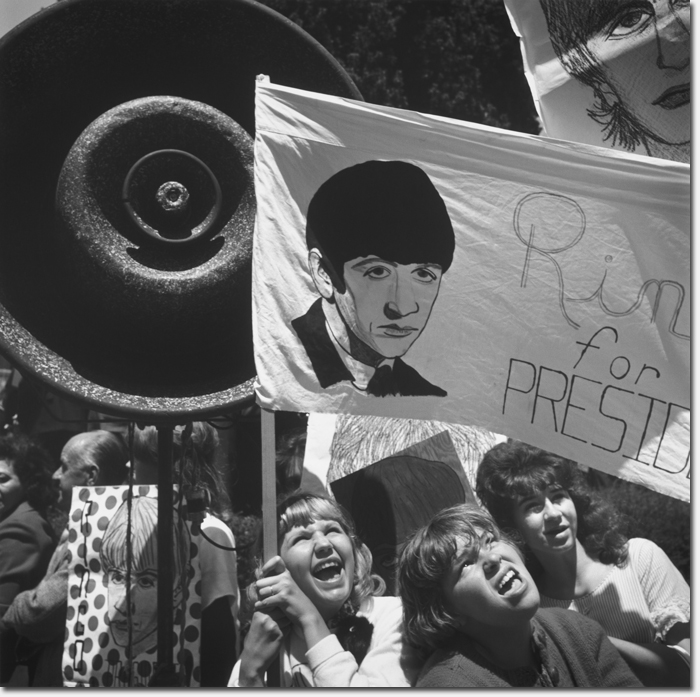 Arthur Tress, Untitled (Union Square), 1964.
The exhibition features several shots that Tress took in the Castro in 1964, which must have been a source of intrigue and amusement for him as a young gay man. His sister Madeleine had moved to the city and secured a high level position with the Fireman's Fund, unusual for a liberal lesbian in the mid-1960s. She lived in the city with her life partner, Jan Sibley until her death. Tress dedicated the exhibition and its accompanying book to his sister "for all the years of unlimited support and careful guidance that helped make me the artist I am today."
Tress is a self-taught photographer, saying during last week's press preview that he doesn't think "cameras and darkroom techniques are very important". Nevertheless, the de Young had new prints made for all of the photos in the show and they do great justice to Tress' compositions, which capture the distinctive fashions, expressions and body language of the era.
Tress isn't modest about his photos in the exhibition, which has sent him on a journey of rediscovering his early photography. After seeing the photos professionally produced as gelatin silver prints and hung in the de Young gallery, he remarked, "I'm taken aback at how good the composition is."
It's hard to argue with him. In the photos he juxtaposes interesting patterns, captures striking portraits of men and women, and succeeds in painting a picture of a society that is both embracing and resisting deep social change.
Old men grimace at the camera, a black man glares while he smokes a cigarette at the cable car turnaround, a woman with cat eye glasses clutches an envelope outside City Hall, her head cocked curiously. In other staged photos, he places a children's tricycle alongside a mounted police officer on Ocean Beach, and another features figures – one a very anorexic woman – lying face down in the sand of Aquatic Park.
Which is all to say that Tress has a quirky, somewhat dark side to which he freely admits. He showed some recent work of macabre, dark photos to author Maurice Sendak, who admitted to being alarmed by them.
In the exhibition you can see Tress' early efforts at bringing darkness to his compositions, looking for the ugly sometimes more than artistic beauty. In one unsettling image, he poses a woman inside the colonnade of the Legion of Honor courtyard. A long overcoat covers her and Tress' composition makes her look as though she's been cut off at the knees.
In another photo, a mustached man in the Castro clutches a cat and looks somewhat menacingly at the lens. In another series taken at a diner, Tress manages to separately photograph a man and a woman, both looking despondent. In the same diner, he captures a pretty woman reaching for paper cups of Coca-Cola, her arms encased in long, white leather gloves, while a man in the background looks at the camera with a raised eyebrow.
As a native San Franciscan, I really enjoyed Tress' show, which takes up just one small gallery in the de Young. But it packs a powerful visual experience as you travel back to a tumultuous time period when a shift was taking place in the country's political consciousness. It's interesting simply to see photos of old San Francisco, but you'll be drawn in by the subtle power of Tress' images that deserve deeper examination.
The Arthur Tress: San Francisco 1964 exhibition is at the de Young Museum in Golden Gate Park through June 3.
Sarah B.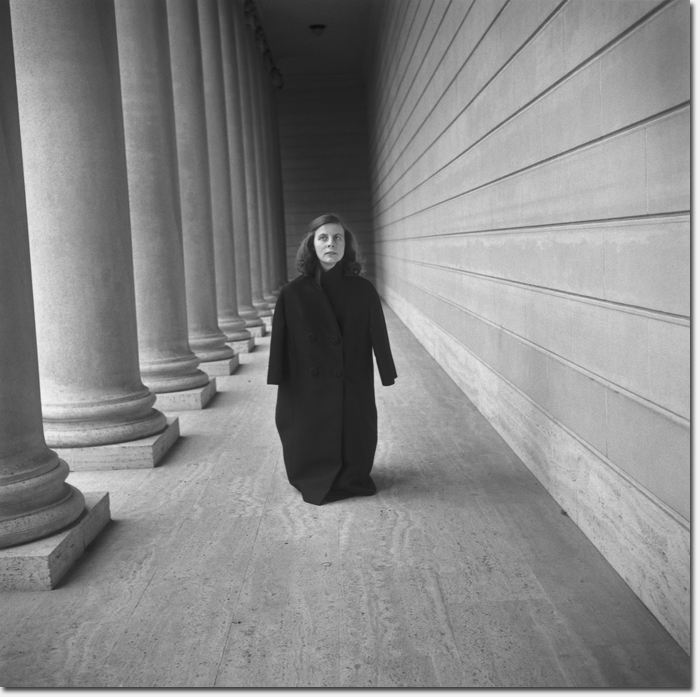 Arthur Tress, Untitled (Legion of Honor Museum), 1964.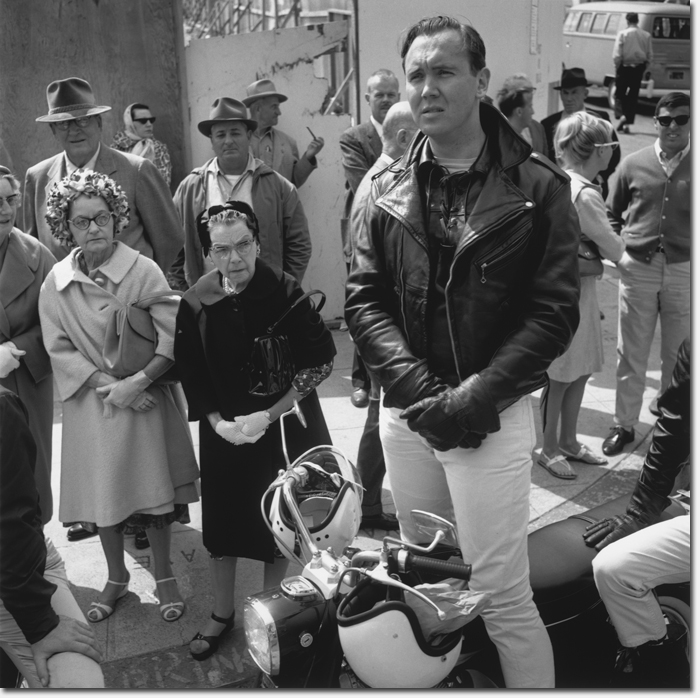 Arthur Tress, Untitled (Van Ness at Geary Boulevard), 1964.
Thanks to a reader, @theradiantbaby, for sending us this short documentary on Tress and his work. It even includes some footage of his late sister, Madeleine.