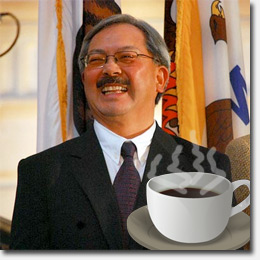 Mayor Ed Lee wants to hear from his constituents, so he's hosting a series of monthly coffee chat with residents from city neighborhoods.
"We need to hear directly from our residents about the issues that matter most to them," said Lee in a statement.
"We must build a balanced budget that not only ensures that San Franciscans get the city services they need, but one that will set the City on a steady course to fiscal solvency."
The District 1 coffee chat will take place on Saturday, May 19. The Mayor can't have coffee with the entire neighborhood, so who gets selected is based on a lottery system:
For a cozy coffee date with the mayor, San Francisco residents can call 311 and leave their name, contact information, and a brief description of the issues they want to discuss. Participants will be selected at random and notified of their appointment the Thursday before the meeting. Meetings are scheduled to be about two hours and include 12 or more people at a time. [Huffington Post]
If you get selected to attend, be sure to let us know!
Sarah B.