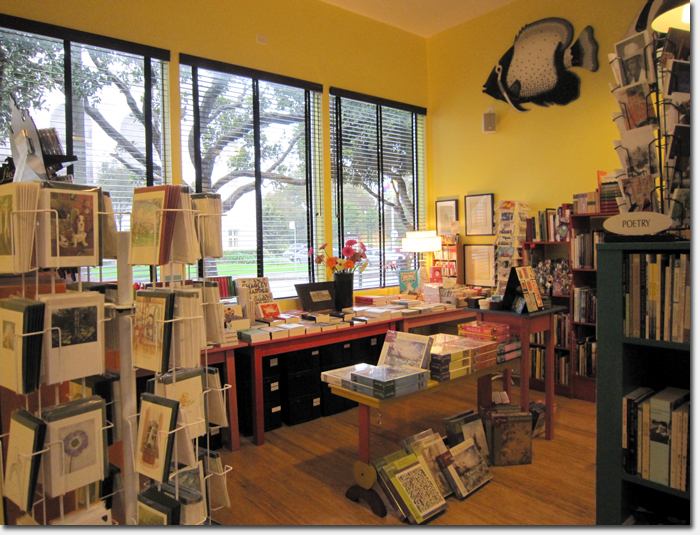 In December 2010, Thidwick Books was forced to close its doors after 11 years on Clement Street. Shop owner Lea Dimond and her landlord were facing a costly lawsuit over ADA violations. At the time, Dimond decided it was best to pack her inventory into storage, take some time off, and try to find a new home for her 18 year old business that had started in San Diego back in 1994.
This past Saturday, Dimond threw open the doors to the next version of Thidwick Books, located at 1136 Clement between 12th Avenue and Funston. I raced between raindrops to pop in and check it out on Saturday.
Dimond greeted me from the back of the 1,000 square foot store which is packed with books for kids and adults, cards, puzzles and more. There's no sign on the shop yet – Dimond says a friend of hers is working on one that will hopefully be ready in a month.
What's striking is the bright ambiance within the store. Dimond completely renovated the interior, uncovering several skylights, adding lighting, new hardwood floors, and painting the walls a bright, sunny yellow. It's so well lit in the shop that she says she hasn't had to turn on any lights until 4pm each day.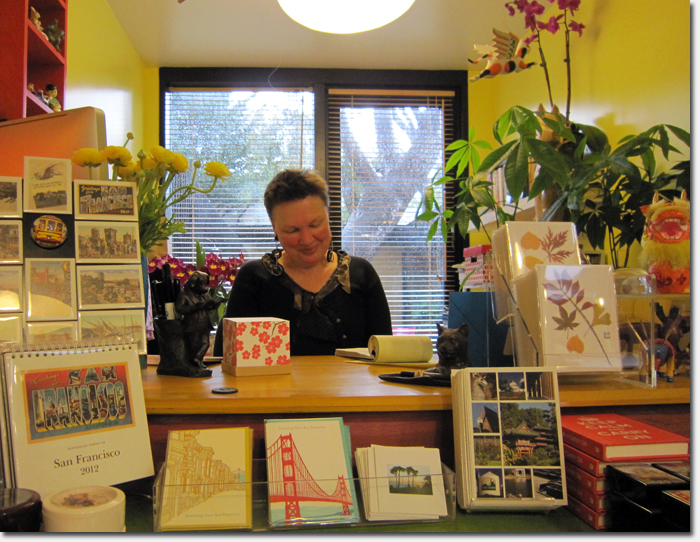 Thidwick Books owner Lea Grey Dimond
Dimond held on to the traditions from her past shops, like the community bulletin board near the front door which customers have already started filling up with announcements, cartoons, or notes welcoming the shop back to the neighborhood. "Soon it will be overlapped with stuff," Dimond remarked.
The last shop, which was located at 11 Clement, was 800 square feet, so Dimond is loving the additional space in her new shop. "I've filled it with more of the same but also with some things I've always wanted to have like a table devoted to San Francisco books, and an entire rack of greeting cards with San Francisco images," she said.
Despite the painful closing of her last shop, Dimond is upbeat and optimistic about her re-opening, remarking that the whole thing may have been a blessing in disguise.
"I got a year off and was able to find this great new space. Maybe I should thank that man!" she says, referring to the man who filed the ADA lawsuit against the 11 Clement Street location.
Since her closing, Dimond says she gets calls periodically from other merchants in the neighborhood who are facing ADA lawsuits. Restaurants are the most common targets, and even long-time Richmond District staples like Hamburger Haven and Bill's Place are targeted.
"I try to help these merchants as much as I can," Dimond says. She usually ends up referring them to the San Francisco Bar Association who she says were responsive and helpful when she was looking for advice in 2010. "I called them and had an appointment within 24 hours, all for just $35."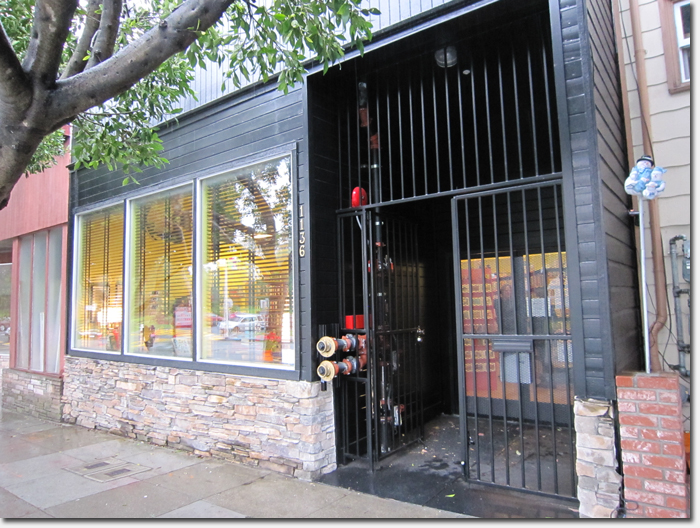 But the new Thidwick Books won't need to worry about ADA lawsuits – the new shop is fully compliant with plenty of room for disabled shoppers to maneuver up and down the store aisles. "I had two super moms in here with their giant buggy strollers and they got around just fine," Dimond said.
The new shop is on a significantly quieter block of Clement Street, just across the street from the studious Internet Archive, and a couple doors down from a salon. But Dimond is happy about the quieter setting. "I told my real estate agent when we were looking that I wanted to not be surrounded by as many merchants when I re-open."
It's that break from the bustle that you feel when you enter Thidwick's, named for the big-hearted moose in a Dr. Seuss book. It's bright and cheery, music plays softly, and the shop is very inviting with plenty of things to browse and get lost in.
From talking with Dimond, she seems most excited about reconnecting with the customers that she got to know during the eleven years in her former location. She loves to eat and says many of her customers stop by to bring her treats – or plush moose animals in keeping with the shop's name.
Thidwick Books is located at 1136 Clement Street and is open Wed through Friday from 11am to 7pm, and Saturday and Sunday from 11am until 5pm (closed Mondays and Tuesdays). Stop in to welcome them back to the neighborhood!
Sarah B.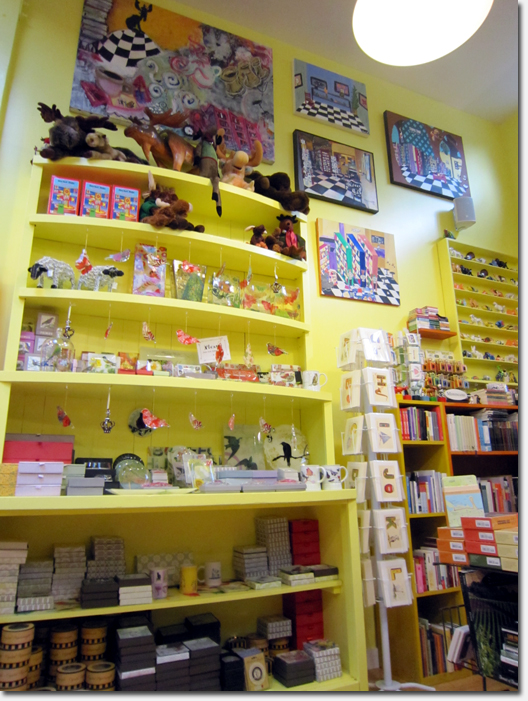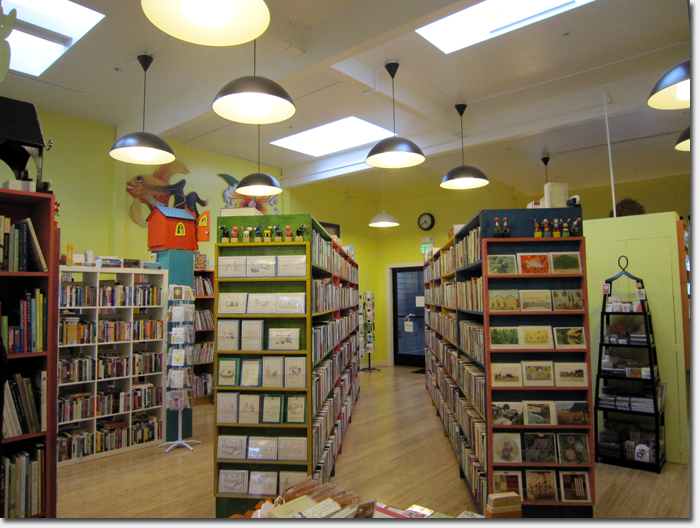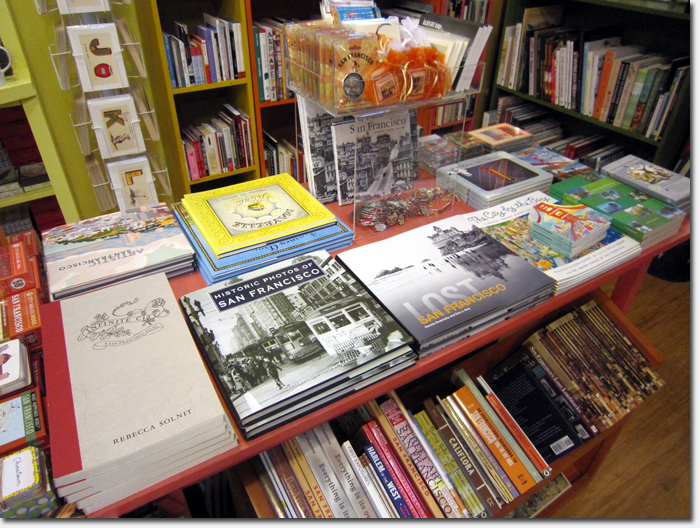 A table devoted to books about San Francisco