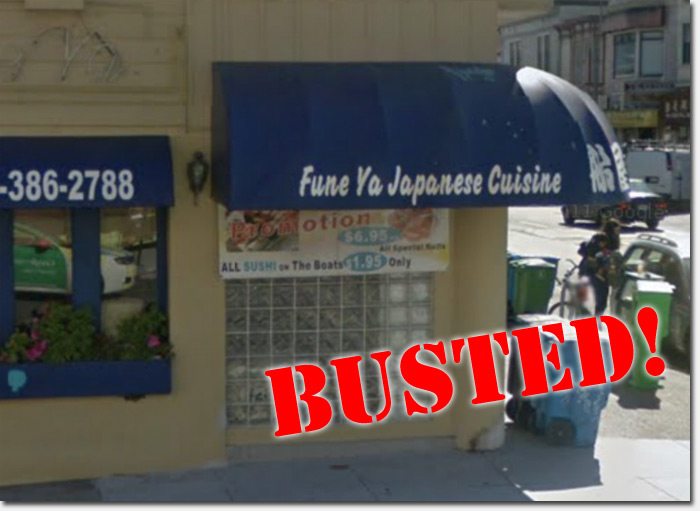 Is it just me or does it seem like there's been a rash of stories lately about crooked business owners in the Richmond District?
First there was Pho Clement not paying employees properly for overtime hours (to the tune of a $316,000 settlement).
Last week, we got word that John Campbell's Irish Bakery failed to pay some of their employees at all – for months – after the owner expanded too quickly and ran into financial problems.
And let's not forget the Clement Street convenience store owner who was stealing winning lottery tickets from his customers, only to be exposed on national TV by Dateline NBC's Chris Hansen.
But now there's a new one to add to the list, with his own colorful story of crime.
The latest Richmond District business owner to behave badly is Michael Chen, the owner of Fune Ya Japanese Restaurant at 354 Clement Street.
The Chronicle reports that Chen was stashing receipts in boxes in a crawl space underneath the restaurant floor. Feds found 26 boxes of receipts, all not-so-cleverly marked "seasoned Octopus". The receipts revealed cash transactions that Chen never reported to the IRS. Uh oh.
And before you chalk Chen's errors up to unskilled accounting… Investigators also found an encrypted Excel spreadsheet in his files that showed $1.9 million in sales (woah, I am in the wrong business!). But Chen only reported $450,165 in sales to the California Board of Equalization and $65,738 in sales to the IRS.
Fune Ya is now closed, and owner Michael Chen was convicted by a federal jury this week of filing false federal corporate income tax returns and mail fraud. No word yet on what his sentence will be.
Sarah B.