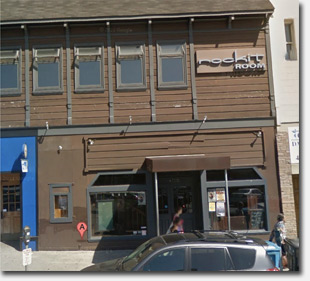 If you've noticed things have been a little quieter on the 400 block of Clement in the evenings, it may be because the Rockit Room is taking a 30 day break from offering live music shows.
After complaints from neighbors and increased police calls, the Rockit Room has been under the microscope of the Entertainment Commission over the past several months. In March, the Commission outlined a long list of conditions that the club needed to meet in order to hold on to their right to host live music events.
Most of the conditions required increased security ("Install surveillance cameras inside and outside the door to the venue ", "All security must wear distinctive clothing", Must pat down and electronically scan every patron") as well as better handling of the acts that perform at the club ("If using outside promoters, there must be a contract in place prior to event, and they must have special event insurance and be registered with city").
The Commission also mandated that the club end any live entertainment by 1am and have lights on in the club and bar by 1:30am every night.
But within two weeks of receiving their directive from the Entertainment Commission, the club was already falling short according to local police. Which could spell death for the Rockit Room if their entertainment license were to be revoked.
To avoid further censure by the Commission, the Rockit Room has voluntarily agreed to a 30 day hiatus from live entertainment. Entertainment Commission Executive Director Jocelyn Kane told The Examiner that the club owners voluntarily suspended their permit for one month in order to "rebrand and reprogram" the music venue.
The Rockit Room remains open as a bar and lounge, but live music shows won't start up again until May 6. During their hiatus, owners will need to continue to make changes to satisfy the conditions laid out by the Entertainment Commission.
The clock is ticking – let's see if the club can get their act together both as a venue, and as a better neighbor.
Sarah B.
Related stories:
Mar 23, 2012: City tells the Rockit Room on Clement to clean up its act
Feb 13, 2012: Oakland rapper Philthy Rich + two others arrested on Clement, Sunday night