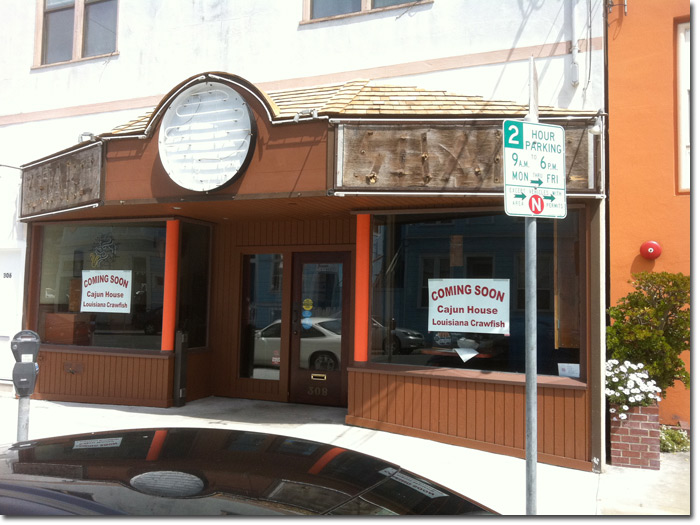 Photo by Kathryn Salamin
Cajun cooking is coming to Clement Street in place of the Prime Rib Shabu House on 5th avenue.
The Cajun House, a Louisiana-style kitchen specializing in crawfish, oysters and crab, is set to open its doors sometime this May. Owners Serena Seto and Jon Xie are excited to bring a new flavor to the Inner Richmond.
"Cajun cooking is not new to San Francisco. But this is a first for the Richmond District," Seto said.
The Cajun House is also not the first crawfish restaurant for owner Jon Xie to open. He previously owned the Craw Station, a popular Asian-Cajun style kitchen in the Sunset District. Xie is also behind the Cajun Houses' fusion inspired menu, boasting eclectic fare such as fried catfish, Cajun spicy wings, and lemon butter clams.
Seto expects items anywhere from garlic noodles to gumbo, from sweet potato fries to steamed rice to please both sides of the Asian-Cajun pallet. But it's the main dishes like crawfish and Dungeness crab seasoned with your choice of lemon-pepper, garlic butter, or their House Cajun sauce that Xie and Seto believe will reel in customers.
"Our style of cooking crawfish will likely satisfy everyone's choice of flavor," Xie said.
Though not originally from the South, the San Francisco-based owners' love and knowledge for Cajun cooking was passed down from Xie's good friend's uncle, a New Orleans chef for over 25 years who recently retired back to San Francisco. It was he who inspired Xie to bring a new style of seafood to the Richmond and Sunset Districts.
Adjacent to popular dessert destination Toy Boat, and a block away from local favorite Green Apple Books, the Cajun House is sure to feel right at home on the melting pot streets of Clement, Seto said.
"I think we are in a very good location with plenty of foot traffic," Seto said. "But as always, our best advertisement is word of mouth."
UPDATE: The Cajun House plans to open on Thursday, May 3.
Story by Kathryn Salamin
Journalism Student, CCSF