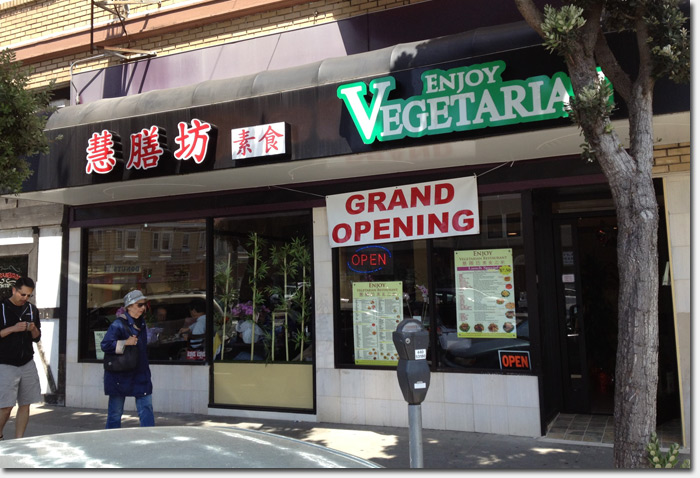 Two new Asian restaurants have opened their doors for business on Geary near 18th Avenue – Enjoy Vegetarian and Perilla.
Unlike many of the restaurants that open in the neighborhood, both have other locations in San Francisco – Enjoy Vegetarian in the Sunset District and Chinatown, and Perilla in SOMA and the Inner Sunset.
Enjoy Vegetarian (5344 Geary) offers a large menu of dishes that are 100% vegetarian. Emblazoned on the menu is the credo "Dishes served do not contain garlic, onion & MSG. Imitation meat are made of soy product, yam or wheat gluten."
The selection of dishes is extensive, with prices ranging from $5.99 for appetizers like "Fried Curry Potato Triangle" and "Japanese Sashimi" to $22 for an "Black mushroom, Veggie Abalone, and Sea Slugs with Lettuce".
Enjoy Vegetarian is open daily for lunch from 11am until 2:30pm (including a large menu of $7.50 lunch specials) and then again for dinner from 5pm until 9pm.
Just a block further down is Perilla (5423 Geary), offering Vietnamese cuisine. Owner Tin Truong also runs another restaurant in the Richmond District – PPQ Dungeness Island (2332 Clement).
Perilla's menu is ample and includes sections for starters, garlic noodles, Vermicelli, rice plates, vegetarian options, and noodle soup. The beverage menu includes a "three color drink / red bean drink" ($3.25), a sweet drink that is a Vietnamese version of Nab Vam, made with a simple syrup of caramelized sugar, coconut milk, ice, and tapioca pearls.
Prices at Perilla range from $6.50 for starters like "Imperial Rolls" or $9.50 for "Papaya Salad with Poached Shrimp", to $10.50 for larger dishes including "Charbroiled Beef Garlic Noodle" and "Vietnamese Carpaccio". View the Perilla menu (PDF)
Perilla is open daily from 11am until 9:30pm.
Both restaurants were hopping when I cruised by around lunchtime on Sunday, so I think it's safe to say they're off to a good start.
Have you eaten at Enjoy Vegeterian or Perilla yet? If you have, let us know about your experience in the comments!
Sarah B.