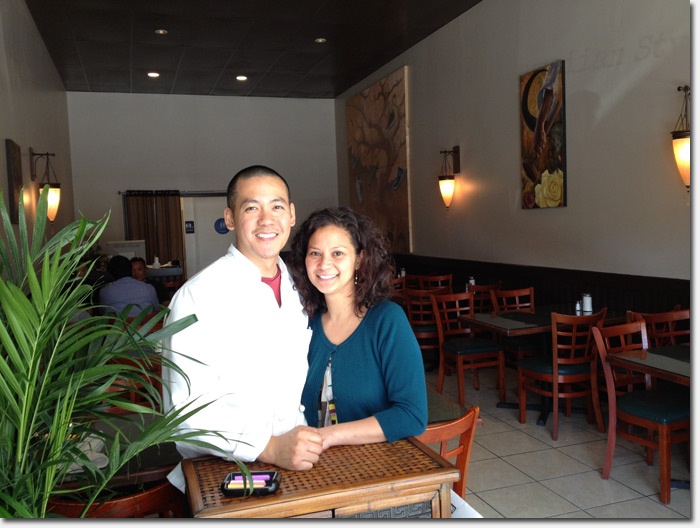 Ono Grindz owners (and married couple) Bradley Lum (Executive Chef) and Josefa Carballo Lum (General Manager)
On Sunday, I stopped in to check on a new spot that's opened in the neighborhood called Ono Grindz, a new Hawaiian restaurant opened by a husband and wife team.
The restaurant's name means "delicious food" – "ono" is Hawaiian for delicous and "grindz" is Hawaiian slang for food or eats. Owner and Executive Chef Bradley Lum first used the name on his line of specialty sauces which have done well, allowing him to open his first restaurant sharing the name.
I sat down with his wife and business partner, Josefa Carballo Lum, to talk about the restaurant, which just underwent a soft opening this past weekend. They invited about sixty friends and family members to come by and dine, allowing the staff to get in the groove and work out the opening kinks. While I was there, a steady stream of residents popped in to dine or grab a menu.
Ono Grindz's menu consists of traditional Hawaiian fare with an emphasis on chicken, egg, spam, sausages, and meat dishes. Josefa says her favorite dishes are the "Spam & Cheese Waffles" ($6) and the "Kalua Pork Benedict" ($9), consisting of toasted Hawaiian bread, Kalua pork, taro leaves, plantation potatoes and lomi lomi tomatoes.
Despite the descriptions of those favorite dishes, Chef Lum says their offerings are different from the "plate style" food that you sometimes see at Hawaiian eateries here on the mainland. While portions are still generous, Lum makes an effort to cut down on the fat in his dishes and offer local, fresh, and organic ingredients whenever possible.
Lum says that rather than frying the meat in their dishes, they are char-broiled. And they hand grind their beef on site, opting for sirloin and chuck which makes for a less fatty ground beef. Lum also plans to add some lighter fare to the menu like "Ahi Tataki" (seared Ahi) and miso butter fish.
In the meantime, Ono Grindz may become the new favorite spot for hungry breakfast eaters. Try the "Chicken and Waffles" ($10) consisting of chicken katsu, spam and cheese buttermilk waffle. Or you might want to dig into the Apple Banana Pancakes or "Veg N Eggs" ($9) if you're looking for something lighter (2 eggs, zucchini, spinach, leeks, chili oil and plantation potatoes).
And if you're accustomed to really fueling up in the morning, try the "The Big Island", complete with 2 eggs, plantation potatoes, apple banana pancakes and your choice of a side meat for $11.
Lunch items include a Hamburger Steak ($10), Garlic Shrimp ($12) and Ox Tail Jook (porridge, $9) and a BBQ Chicken Salad ($9).
While Chef Bradley Lum has been in the food business for nearly two decades, it's the first restaurant that he has owned together with his wife, Josefa, who is the General Manager. "I come from a legal background so I'm bringing my management skills to the business," she said. The two got married last year.
Bradley, who is Chinese-Hawaiian, got his passion for cooking from watching his "mom, paw paw & gong gong" (grandmother/grandfather in Chinese) in the kitchen when he was growing up.
"I watched each of them for hours and later found myself trying to recreate dishes from scratch that I tried at restaurants. Coming from a Chinese and Hawaiian background, enjoying good food and making things came naturally," he says on their website.
Bradley and Josefa, both native San Franciscans, commute to work from their home in Potrero Hill, but Josefa says they're keeping their eyes out for a new home here in the neighborhood. Josefa says they chose to open Ono Grindz in the Richmond District because of Clement Street's foot traffic and eclectic mix of cuisines. "We also liked the blend of mom and pop businesses with larger ones, but still not big chains," she said.
The space was previously home to a vegetarian restaurant, and Josefa said they made mostly cosmetic changes to get ready to open, which has been in process since March. "We also asked a lot of questions of small businesses to learn as much as we could," Josefa said.
The couple are also interested in art, supporting local artists by featuring their work on the restaurant walls.
Ono Grindz currently only offers breakfast and lunch. Josefa says in the future, they may stay open on Friday and Saturday nights to offer a traditional "luau plate" menu, but for now they're keeping things simple as they break in the new space and train their staff.
Ono Grindz is located at 832 Clement near 10th Avenue, and is open daily for breakfast and lunch from 8am until 3pm. Stop in to say "Aloha!" and welcome them to the neighborhood.
Sarah B.
Thanks to RichmondSFBlog reader Mark T. for the tip.