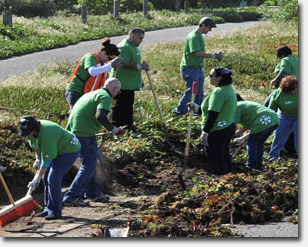 Next Saturday there are two volunteer opportunities for those looking to give back to the neighborhood. Both of these events are suitable for the whole family to chip in and help.
The Department of Public Works (DPW) is hosting a Community Clean Team event in the Richmond District from 9am until 12noon. Volunteers of all ages can help out with cleaning and greening the neighborhood including landscaping, painting over graffiti, cleaning tree basins, weeding, picking up litter, etc.
This is a great chance to get your whole family involved in helping take care of the neighborhood. The event kicks off at George Washington High School at 9am (600 32nd Ave at Cabrillo). Lunch will be served to volunteers at the end. To participate, be sure to sign up by emailing dpw@sfdpw.org or calling 641-2600.
Also on Saturday, as part of a city-wide "Love Your Parks Day", the Friends of Mountain Lake Park and SF Parks Alliance are hosting a clean-up event and nature walk at Mountain Lake Park (Lake Street at 12th Avenue) from 10am until 1pm. Help with new plantings and cleaning the beach, followed by a "kid-friendly nature walk to learn about the lake's history, habitat and resident critters."
Volunteers will receive a free "Love Your Parks" t-shirt and lunch afterwards. Register online in advance to participate.
Sarah B.