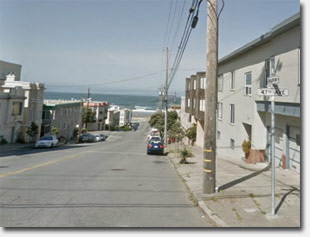 RichmondSFBlog reader Gabriel Lampert contacted us this morning about an unusual incident that caught the attention of the SFPD and the SFFD.
Yesterday, a neighbor of Lampert's observed a man running up Balboa Street from Ocean Beach, dropping small piles of white powder at telephone poles, traffic signs and intersections. The neighbor spoke with the Richmond District police tip line, but no officers came out to check on the situation.
Lampert called the SFFD this morning to follow up, and when they arrived, firefighters said they had spotted similar piles near utility poles along Geary Boulevard. The SFFD called in a unit to test the powder.
Thankfully the white powder turned out to be benign ("not hazmat" according to the SFFD). Because it was actually flour that was used by the local chapter of the Hash House Harriers, a running club that uses the powder to mark their courses. They held a running event on June 4 in the outer Richmond.
I'm sure the often rowdy and boisterous Hash House Harriers (they refer to themselves as "a running club with a drinking problem") are really getting a giggle out of this…
Sarah B.