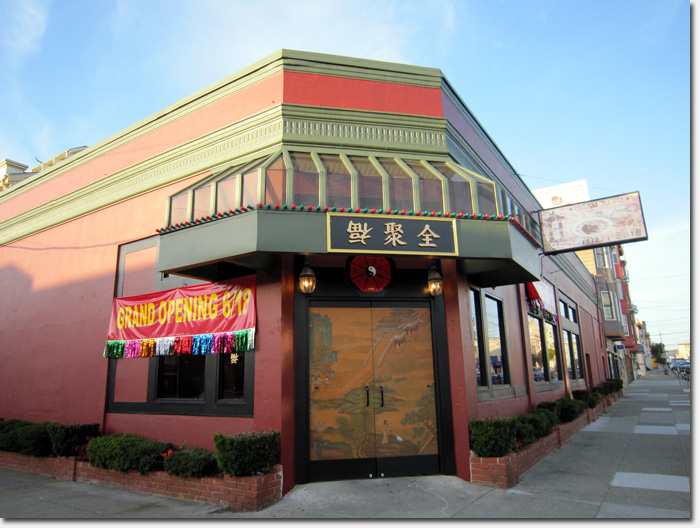 In late April we got word that the former Yet Wah restaurant space at Clement and 23rd Avenue may be finding a new tenant.
Today, Quan Ju Fu restaurant is opening its doors, offering "family-style dining and lots of different options for individuals with different tastes."
Gone is the purple facade of Yet Wah, replaced with a traditional Chinese red paint job, new doors and signage.
Quan Ju Fu, which loosely translates to English as "enjoying things together", is the second location for Chinatown Restaurant, a well-known tourist stop at Washington and Grant in Chinatown that has been in business since 1919.
Spokesperson Daisy Quan says that they wanted to open a second location in the Richmond District to cater to locals rather than tourists.
"We felt that we were very out of touch with the local population here in San Francisco. We believe in our food and that it will appeal to locals as well," Quan said.
Quan Ju Fu offers traditional Chinese dishes, as well as Shabu Shabu. Dim sum is offered all day, and Quan says their Combination Dim Sum Special, which includes an assortment of staple dim sum choices, is "especially good for people new to dim sum".
Other Quan Ju Fu specialties include Peking Duck with pancake wrappers, scallions, and duck sauce, and Szechuan Spicy Whole Crab.
The restaurant is also available for large groups or special events, accommodating as many as 200 people on its second floor, which includes a dance floor and karaoke machines.
Quan Yu Fu (2140 Clement at 23rd Avenue, 221-8018) is open daily from 10am until 10pm, and also offers takeout and delivery ($50 minimum required). The restaurant has a convenient white zone spot next to it, making it ideal for calling in an order and picking it up on your way home.
The restaurant's website is still under construction, but you can view the menu here. If you get a chance to stop in and try the restaurant, leave a comment to let us know about your experience!
Sarah B.