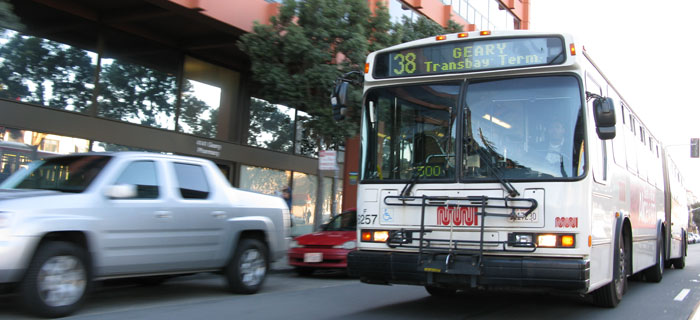 Next Monday, the SF County Transportation Authority will hold an informational public meetings on the Geary Bus Rapid Transit (BRT) Project at the Richmond District Recreation Center from 6:30pm until 8:30pm (251 18th Avenue).
The BRT project is designed to speed up buses by creating dedicated bus-only lanes on Geary from Gough Street to 25th Avenue, which could improve service and reliability, as well as improve pedestrian conditions among the busy corridor with new medians, safer crossings, landscaping and countdown signals. View the project fact sheet (PDF)
But the Geary BRT has been dismissed by opponents as being too expensive, too disruptive to residents and local businesses, and unrealistic in its goals.
Still, proponents believe that Geary Boulevard can become the "Great Street" it was always meant to be, and that bus riders will benefit from the service improvements and merchants from the increased ridership into the Richmond District.
BRT is a long way from becoming a reality. Project timelines are long, with construction beginning in 2017 and wrapping up sometime in 2019-2020.
The project is currently developing an environmental study, and next week's meetings will be a chance for residents to learn about project alternatives under evaluation, view design options being considered for key intersections, and provide feedback to the project team.
There are still 4 alternatives being considered for the project. The first is to leave Geary as is, meaning no new dedicated lanes for buses but improvements would be made to help flow of traffic and increase safety. The second alternative calls for "side-lanes", or dedicated bus lanes that would hug the curbs on Geary with bulbs added to accommodate vehicle parking. The third and fourth alternatives create center lanes dedicated to the Geary buses, one plan with a dual median, the other with a single.
The BRT project is the source of much debate in the neighborhood. In 2009, we asked two David's – David Heller of the Geary Boulevard Merchant's Association and savegearyblvd.com, and Dave Snyder of Streetsblog – to weigh in on the major issues surrounding the project. Read their answers here. And the BRT was one of the key questions up at the mayoral debate hosted in the neighborhood in September 2011.
Sarah B.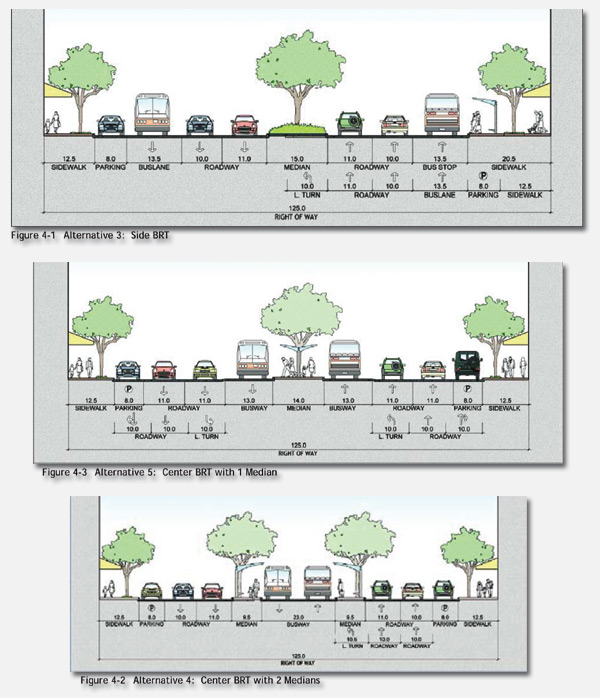 Proposed configurations for the dedicated bus lanes on Geary from Gough Street out to 25th Avenue