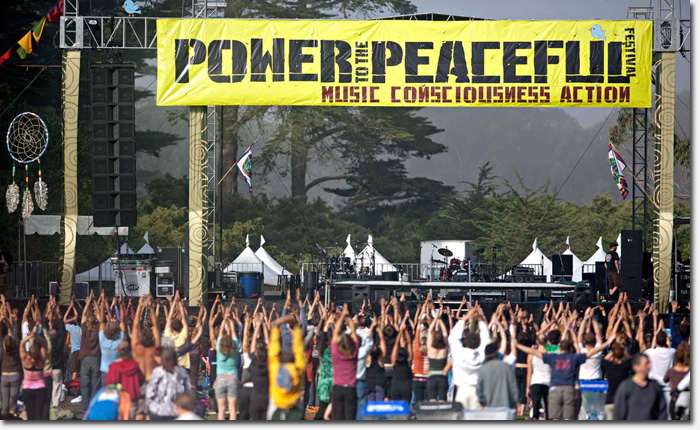 Just as Outside Lands is set to kick off, we get news via SFCitizen that the popular (and FREE) "Power to the Peaceful" music fest, put on by musician Michael Franti, will not take place this year.
The concert missed last summer as well, and fans of the "Music, Art, Community and Consciousness" event were eagerly awaiting its return in 2012.
But organizers announced on July 31 that they would not be putting on the festival due to rising city fees:
Due to rising city fees which have ballooned our operating costs over the past years, we regrettably announce that The Power to the Peaceful Festival will not be staged in September of 2012.
In what would have been our 13th year of free festivals in San Francisco's Golden Gate Park the only way to have produce the festival this year would have been to turn it into a ticketed event. We wish to thank all of our supporters and volunteers and look forward to the next chapter of the Power To The Peaceful team working to promote peace and positivity in our community at future events.
The festival had something for everyone, and was a popular event for families. In addition to hosting international musicians, the festival featured a DJ tent, open-air art gallery, eco village, social justice forum, green vendors and food booths, a healing arts tent, plus kids zone offering arts and crafts, live theater, music and activities.
Another long running event, Jimmy's Old Car Picnic, almost met a similar fate in 2010 when SF Rec & Park threatened to drive up permit fees for the 20+ year old fundraiser.
They eventually worked it out but it sent a clear message – Golden Gate Park is in business to make money.
No word on whether Power to the Peaceful will return in the future, but let's hope it does. It was a nice free event that a lot of people enjoy. In the meantime, I'll just keep listening to Franti and practice my yoga…
UPDATE: Our friends over at SFAppeal did some additional digging into what happened. There was a plan in place to put on the concert, where tickets would be $10 and attendance would be limited to 40,000 – and organizers would be charged $94,000 in fees. But PTTP organizers decided to cancel much to the surprise of Rec & Park. More at SFAppeal
Sarah B.