Next Tuesday night, a meeting will be held to discuss a proposal to expand the 5 Fulton bus line service.
Currently, the 5 Fulton bus runs at all times as a local, stopping to pick up passengers at every stop along its route which runs between Beale Street downtown and Ocean Beach (route map).
By SFMTA estimates, the 5 Fulton carries 19,000 passengers on an average weekday, averaging a speed of just 9.7 miles per hour during peak periods.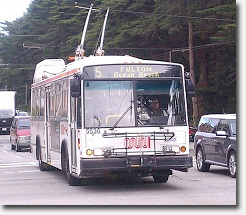 What's slowing it down? "Sources of delay include closely spaced bus stops, traffic congestion and frequent STOP signs along the route in the Western Addition," the SFMTA says.
To "ease crowding and improve transit during peak hours", Supervisor Eric Mar is proposing that an additional 5 Fulton Limited service be added to the route during peak commute hours in the mornings and evenings, Monday through Friday. The limited line would make all stops from Ocean Beach to 6th Avenue, and then limited stops until it reaches Van Ness Avenue.
Mar is also proposing that an additional "short" line be added during the same hours, beginning and terminating its route at 6th Avenue, and making all stops.
Both the proposed 5 Fulton Limited and short lines would run all the way downtown, making all stops after Van Ness Avenue.
The 5 Fulton bus line is part of MUNI's Transit Effectiveness Project and Mar's office says they "are looking to expedite its roll out."
We were unable to find mention of a new 5 Fulton Limited line in the list of recommended changes to help speed up the route. The plan does mention increasing bus stop spacing, relocating some stops, replacing stop sign intersections with lights, parking changes, as well as pedestrian safety improvements.
Assuming all the recommendations are implemented (not including adding these new lines proposed by Mar), the SFMTA estimates that it would "reduce the travel time of the 5 Fulton by about six minutes in each direction" and improve the average operating speed to 11.7 miles. Installing traffic lights at some intersections could also save an additional 1.5 minutes in each direction.
The public meeting about adding 5 Fulton Limited and short lines is scheduled for Tuesday, August 21 from 5:30pm until 7pm at the Richmond District Police Station Community Room, 461 6th Avenue.
Sarah B.