Woody Allen has been seen around town the last couple of weeks filming his new movie that stars Cate Blanchett, Alec Baldwin, Sally Hawkins, and Peter Sarsgaard.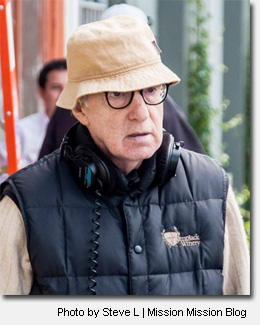 Reader Diane saw signs posted around the neighborhood notifying residents that Allen and crew will be filming at Gaspare's Pizza House & Italian Restaurant (5546 Geary) this Thursday between 11am and 9pm. Movie trucks will be using the St. Monica's parking lot as a staging ground.
Allen's new film is yet to be titled, but SFAppeal reports it's "a romantic comedy film about a woman trying to make it on a budget when she moves to San Francisco after her posh New York City lifestyle comes crashing down."
The film commission said the movie is about a wealthy woman [Sally Hawkins] who finds herself broke and in San Francisco, living with her sister and downsizing her life.
She eventually meets a man in the Bay Area who could solve her financial problems, but she first needs to discover who she is and, more importantly, accept San Francisco as her home.
Woody's recent films have been city-focused with last year's "Midnight in Paris" and this year's "To Rome with Love", so it's great to see San Francisco receiving some of his cinematic affection.
If you're near Gaspare's on Thursday, look for Woody's trademark off-white fisherman's hat and khaki pants ensemble. Or go watch the film when it comes out in late 2013.
Sarah B.