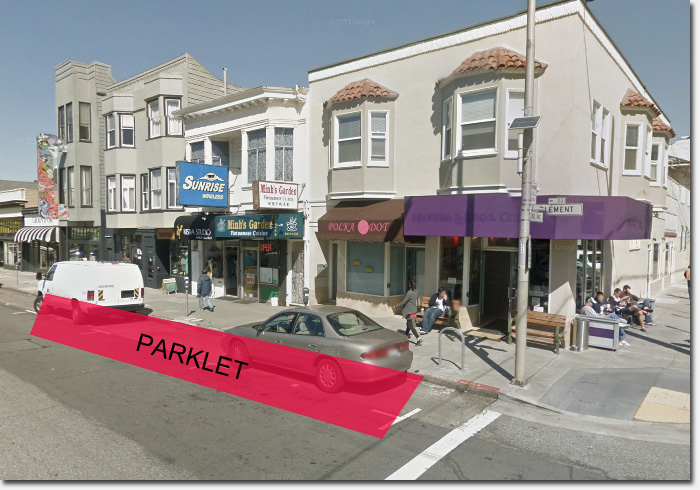 We first heard rumors of a possible parklet in the neighborhood back in 2010, when one was being considered at 5th and Clement near Toy Boat. But that never materialized.
Alissa, the owner of Foggy Notion on 6th Avenue, sent word yesterday that a parklet is now being considered for Clement Street near the corner of 3rd Avenue. She learned about it in a a meeting on Thursday with Supervisor Eric Mar and other local business owners.
If your new to the world of parklets, they are mini "urban" parks that have been installed in parking spaces around the city. Usually they take over 2 or 3 parking spaces, and each has their own individual design. They were developed as part of the city's Pavement to Parks program; its goal is to reclaim or offer additional public open space in areas that are lacking.
There are currently 35 parklets in San Francisco (view map), including three in the Sunset District. The Mission has the highest concentration of them along the Valencia Street corridor. Treehugger.com has a helpful overview on the parklet movement.
The space where they're looking to install the first Richmond District parklet is on the north side of Clement Street, occupying 3 parking spaces and beginning in front of Cumaica Coffee.
The cost for constructing and installing a parklet varies, but averages around $20,000. At the meeting, Alissa said there was some discussion about funding for the parklet which has yet to be secured.
So what do you all think? Are you excited for the first parklet in the Richmond District? Leave a comment to let us know.
Sarah B.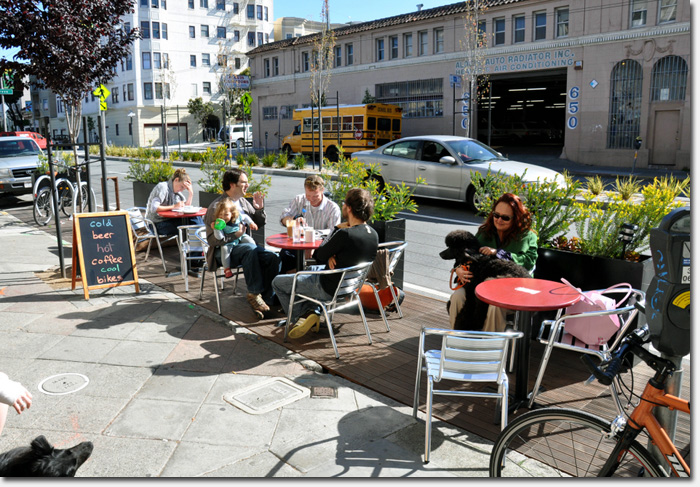 A parklet on Divisadero Street. Photo by Jeremy Shaw