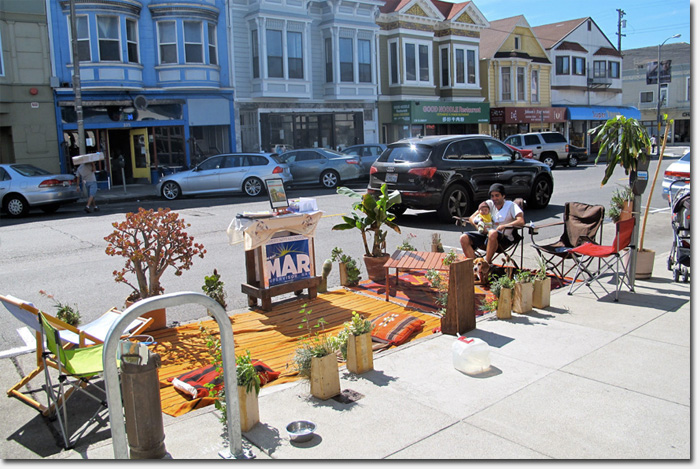 The Park(ing) Day installation on Clement near 3rd Avenue. Photo courtesy of CurbedSF
On Friday, two neighborhood residents gave a preview of sorts for the upcoming parklet on Clement near 3rd Avenue. They participated in Park(ing) Day, a worldwide event where artists, designers and citizens transform metered parking spots into temporary public parks.
The small park was set up in metered spaces on the 200 block of Clement, in the same location where the new parklet is being proposed.
One of the men involved in the creation of the installation is also the artist behind the infamous pole gardens. He displayed several of them alongside the Park(ing) spot.
Patricia, a blog reader, wrote to us and said, "I stopped by a few times throughout the day and was so inspired and uplifted by the effort. It was a memorable way to connect with neighbors and passers-by. You can do so much within a small space– the creative possibilities are endless!"
This is the first Park(ing) Day installation we've had in the neighborhood since the blog came online, but not sure if it's the very first since the Park(ing) Day event started in 2005. Not that it really matters – it's just great to see residents having fun, being creative, and participating in the global event.
There were dozens of Park(ing) Day installations all over the city on Friday. Stop by CurbedSF to see a gallery of photos.
Sarah B.