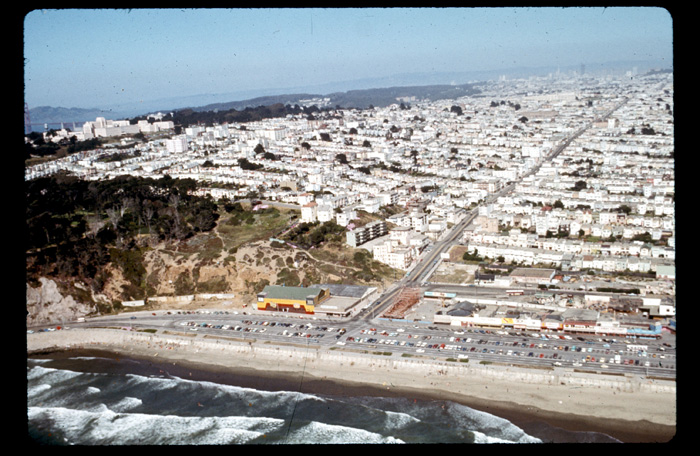 Ocean Beach, Kelly's Cove and a flattened Playland in 1972 (see larger version. Via Stokereport.com
Here are some local links to round out your week. Enjoy the weekend! – Sarah B.
A new massage business on Geary near Park Presidio offers "Face Slapping" massage that "brings out your hidden beauty potential without invasive procedures and is 100% chemical FREE." Oh and they say it's "also 1 million percent safe". Sign up for the Face Slapping full treatment ($1,000) and over the course of 4 treatments in a month, you can get "face slapping to look like a celebrity, face slapping to look younger, and face slapping to charm your significant other."
You can get in free to the Legion of Honor or the de Young Museums this Saturday thanks to Smithsonian Magazine Museum Day. Just visit this online form, fill it out, and you'll get a ticket via email that entitles you and a guest to free admission to one museum.
Next Saturday, Oct. 6, St. James Preschool (4620 California) is having a "Childrens Clothes Go Round Sale" from 8am until 12noon, offering gently used clothes for kids age up to 5 years old. Proceeds benefit the St. James Preschool (8th/California).
The 540 Club bar on Clement near 7th Avenue has a show up of 40 drawings from a local artist who goes by knucklesandwiches. They'll be up for a few months.
SFGate's Beth Spotswood visited the Lands End Lookout visitor center and I'm pretty sure she really, really liked it. "The Lookout is the perfect spot to not only begin your exploration of the Sutro Baths and the paths of Lands End, but a fabulous way to spend many fulfilling hours of your life. You could live there."
Speaking of Lands End, sf.untappedcities.com recently took a walking tour of the area and came across some gems that often get overlooked.
SF Rec & Park put off their decision on whether to hand over management of Golden Gate Park 9-hole golf course to a private foundation called First Tee. It will be a few months before they tackle the topic again.