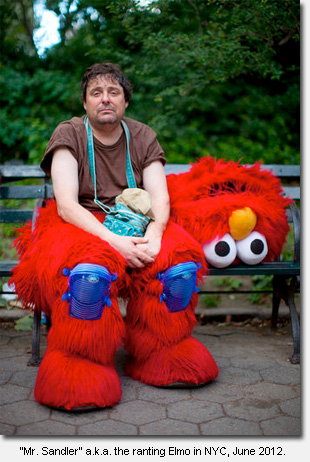 An adult man dressed up in an Elmo costume appeared at Rossi Park this past Saturday, walking around and trying to hug children.
Parents were concerned by the man's appearance and demeanor, so they called police who came to the park, just as the man was taking off his costume in the area of the tennis courts.
"As he passed all of us to leave he started yelling obscenities and anti-Semitic slurs. He just went nuts," wrote one parent on an online message board about the incident.
Police left without arresting the man, and soon after he returned to continue his tirade in front of the 50 or 60 children who were playing soccer at Rossi.
That prompted another call to police who responded with six squad cars. They eventually forced him off the playground but did not arrest him.
It turns out this Elmo impersonator has a past, and a checkered one at that. He was written up in the New York Times in June in an article entitled "Beneath a Ranting Elmo's Mask, a Man With a Disturbing Past".
He's known as "Mr. Sandler" and was making his rounds in New York City's Central Park this summer, earning money for hugging children while he was in costume. During his outings, Sandler would break into outbursts and crazy rants, many of them anti-semitic. His tirades were caught on video and even ended up on CNN.
Parents who were at Rossi on Saturday confirmed that the man profiled in the New York Times article is the same one they saw at the park.
Sandler has spent time in mental hospitals and was deported from Cambodia after a scandal involving an internet porn site he started there called Welcome to the Rape Camp.
And now it seems that this crazy Elmo has made his way to San Francisco. We have not heard of any other reports of him showing up at local parks, but keep an eye out and if you do spot him, contact the police to intervene.
Sarah B.