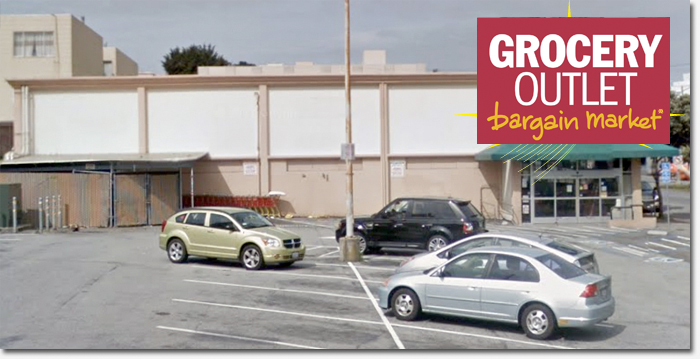 It's taken nearly two years but Supervisor Eric Mar's office will announce tomorrow that Grocery Outlet has signed a lease on the former Delano's Market property at 6333 Geary Boulevard. Delano's closed in December 2010 after filing for bankruptcy.
Grocery Outlet is a family run business, known for their value pricing and "bargain market" tagline. They offer "brand name products at up to 50% off conventional retail prices" according to their website.
Headquartered in Berkeley, California, Grocery Outlet's holdings include 185 stores in Arizona, California, Idaho, Nevada, Oregon, Washington and Pennsylvania. Most stores are independently operated by locally-based families.
This will be the chain's first store in the city of San Francisco. The closest current Grocery Outlet is on Hickey Boulevard in South San Francisco.
"Grocery Outlet started in San Francisco 65 years ago and we are delighted to be coming back home," said Grocery Outlet Co-CEO MacGregor Read. "Our customers have come to expect quality, variety and value at our stores and we will be offering the same to San Francisco shoppers."
This should set up an interesting competitive dynamic with the Fresh & Easy market that opened on 32nd and Clement – just 6 blocks away – in June 2011.
No word yet on when Grocery Outlet will open the doors on its 12,360-square-foot store. There will be a press conference on Wednesday at 12noon to announce the new tenancy; perhaps we'll find out then.
UPDATE: Grocery Outlet plans to open in early to mid 2013. According to Paul Lauterborn of Supervisor Mar's office, "They need to do some serious renovations to make the site ready and attractive."
Glad to see this empty space getting filled!
Sarah B.