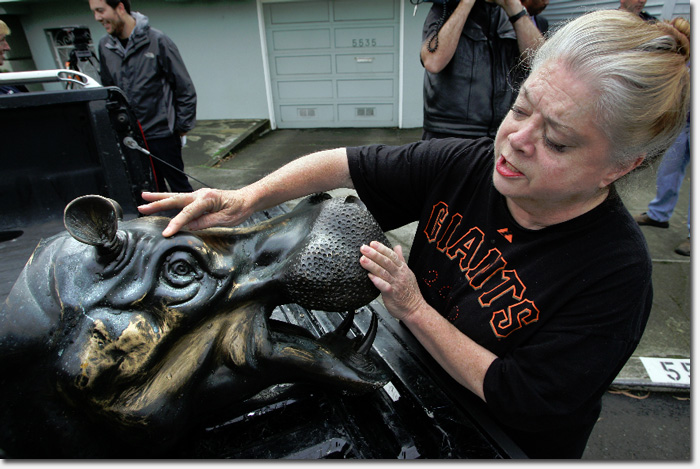 Photo by Mike Koozmin | The Examiner
Oh the things this hippo has seen…
Almost exactly three years ago, we posted one of our most unusual "missing persons" stories, about a 500 pound bronze statue of a hippo that was stolen from the driveway of a house in Sutro Heights.
He was known as Thomus T. Hippopotamus and his disappearance garnered coverage from a local TV news station. After 15 years of having Thomus watch her driveway, owner Dannette Peltier was anxious to have him back, even offering a reward for his safe return. He was a favorite to neighborhood kids who would jump on his back and play.
Fencing or pawning a 500 pound hippo is no small feat, and police quickly alerted metal recyclers in the area about the theft, showing them photos of Thomus and asking them to be on the lookout. Thomus could fetch as much as $500 for scrap metal, but that was a paltry sum compared to the $4,000 that Peltier paid for that statue at an estate sale in Burlingame in the 1990s.
Fast forward to July 2012 when Officer Sue Lavin, who specializes in metal theft cases at the Bayview station, received a call from San Francisco Scrap Metal in Potrero Hill. A man had walked in with several large chunks of bronze and four very distinctive pieces that looked suspiciously like hippo feet. The customer took off before police could arrive, but they were able to recover the pieces. Now it was just Thomus' head that was still missing.
Thieves had really done a hatchet job on Thomus.
Then just last month, police in the Bayview took another call, this time from a resident reporting their neighbor for selling drugs. The call took police to a house on 12th Avenue and Judah, where they parked and waited for the suspect. As he approached his home, officers detained and searched the suspect, finding a sawed off shotgun and drugs – enough to justify a search of his home.
Police entered the suspect's apartment and lo and behold, there was Thomus' head, staring up from the floor. His case was well known in the Bayview station and Officer Lavin was contacted to come to the scene to identify the final, missing piece of the Thomus statue.
Last week, Thomus and his parts were finally reunited with Peltier at her home on the 5500 block of Anza. The Examiner was there for the reunion and snapped pics while Peltier exclaimed "Oh Thomus! I knew he would come back. I just knew it," upon spotting him in the back of the SFPD truck.
Like Humpty Dumpty, Thomus will have to be put back together again by a welder. But don't expect Peltier to put him back in the driveway and give metal thieves another chance at making off with her beloved hippo. She plans to keep him safe in the backyard, or perhaps donate him to nearby Sutro Heights Park where he could be secured and enjoyed by visitors.
Welcome home, Thomus! What a long, strange trip it must have been for you.
Special thanks to Officer Robert O'Sullivan and reader Sue K. for help with Thomus' story.
Sarah B.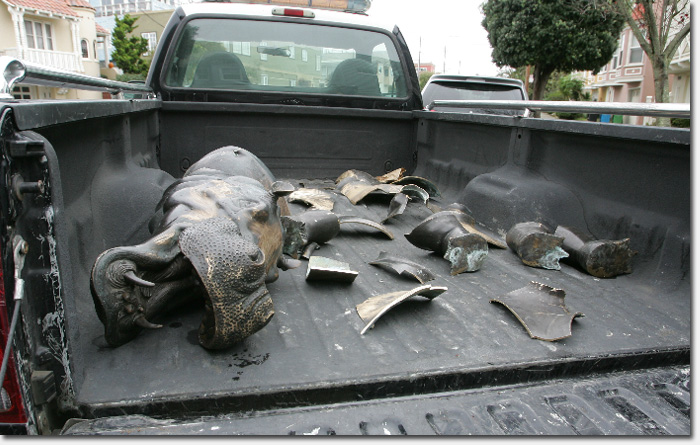 Photo by Mike Koozmin | The Examiner