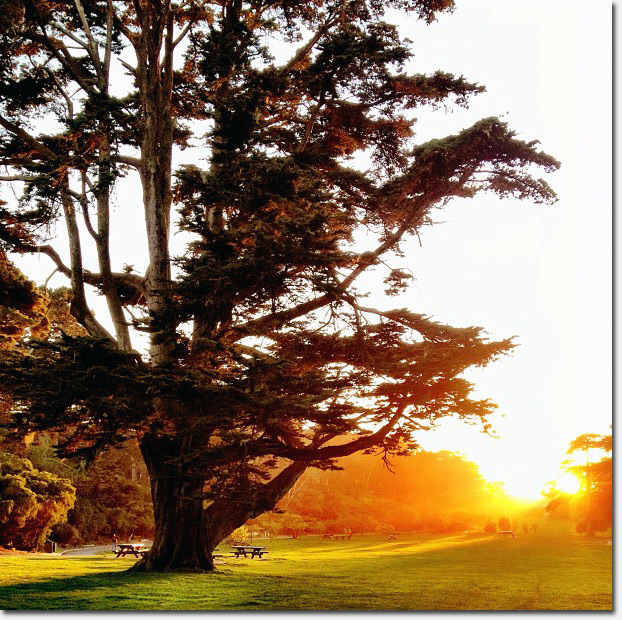 Magic hour at Marx Meadow in Golden Gate Park. Photo by Vic[tori]a Lesikar
Happy Thursday to everyone! Here are some links to take you into your weekend… Sarah B.

Lost Landscapes 7 has just been announced for December 11 at the Castro Theater, and tickets are now on sale. New sequences in this year's high-definition feast will include the Japanese-American community in the Western Addition before redevelopment; shipwrecks off the Northern shoreline; 1930s demonstrations for China
Relief; even more scenes of Sutro Baths; family films from the Mission, Richmond, Sunset and Excelsior Districts; rediscovered films of San Francisco transit; and newly discovered, never-shown 35mm documentary
footage of the Tenderloin and waterfront.
Bookworms, this one is for you. The Kittredge School at the corner of 25th and Lake just put out a 'Little Free Library' box. Neighbors are invited to take a book – or leave a book, especially a favorite that you think everyone should read. Thanks to reader Smitty for the tip.
Run, run run… For those of you looking to burn some calories before conuming the several thousand that are part of Thanksgiving Day, sign up for the Turkey Trot in Golden Gate Park. Sign up for the 3 mile walk or the 5 mile run. They're already 91% full so don't wait too long to register!
Music to our ears… Music teacher Lisa Mandelstein of Katherine Delmar Burke School recently won a contest put on by lyric tenor Brian Jagde, thanks to this very cute and earnest video submitted by Mandelstein's student, Mimi, calling Mandelstein "the best music teacher in the Bay Area". Mandelstein will be a special guest at the Nov. 24 performance of SFOpera's Tosca, where Bagde will perform. He'll take Mandelstein to dinner at Jardinière too.
Booze at the Balboa? Grubstreet reports that the Balboa Theater is applying for a license to serve wine and beer. If approved, you could be enjoying some swill and a flick by next spring.
The Camera Obscura out by the Cliff House was profiled recently on 7×7. "Shaped like a giant camera the size of a one-room cabin, the "camera" allows visitors to step inside and see a 360-degree view of outside." It's pretty cool, just be sure to head out there on a clear day or you'll be hit with a closed sign.
Bits and bites… SFWeekly mentioned a new Chinese restaurant, Chili House, that opened at 726 Clement near 8th Avenue. In other food updates, Minh's Garden Chinese at 208 Clement will soon become Tenglong Chinese (EaterSF.
Crepe it up… A new crepes cafe has opened called iCrepe, located at 6909 Geary near 34th Avenue. SFEater reports that the menu highlights include "sweet crepes filled with tiramisu & Lady Finger cookies or cookies 'n cream ice cream, choco sauce, and a whole Oreo, plus there's some tasty-sounding savory moves for breakfast (Bacon Egg & Cheese) and lunch (Turkey Avocado & Ranch, Bacon Okonomiyaki & Cheese).