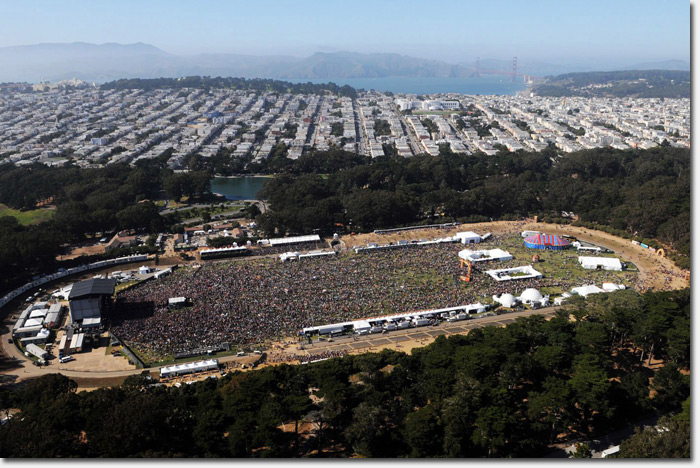 The Examiner reported on Wednesday that the Rec & Park Commission will soon consider a proposal for a contract extension for the Outside Lands Music Festival, which just wrapped up its fifth year in August.
The festival has grown in popularity since its inception, drawing as many as 65,000 attendees per day to Golden Gate Park during the three day event.
The new contract extension would guarantee another eight years of the festival taking place in the park, and allow organizers to increase event capacity by 10,000 people per day.
In exchange, the city stands to earn more revenue from the deal. The new contract calls for a city share of $1.25 per ticket sold or 11 percent of gross ticket sales, whichever is greater. That's higher than the original contract which stipulated $1 and 10 percent.
Neighbors who live near the festival in the Richmond District may not be too thrilled to hear about the increased capacity in the new contract. Already every year, neighbors complain about high noise levels from the concert stages, public drunkenness and urination, and parking issues during the days that the festival takes place.
Even with the 10,000 increase in attendees each day, promoter Another Planet Entertainment claims that at 75,000 people per day, they'll still have less than the Hardly Strictly Bluegrass festival attracts.
In the new contract, Another Planet is also promising additional financial contributions to Rec & Park to offset some of the toll that the festival takes on the park, including $89,000 per year to hire a full-time gardener for the department and another $15,000 per year for material and supplies to repair and upgrade the areas in which the event is held.
Another Planet also says they will gift the city with $750,000 to replace the bleachers at the Polo Fields if the new contract is approved.
"We have always done this event partially as a fundraiser for Rec and Park," Another Planet CEO Gregg Perloff told the Examiner.
Cough, cough.
For as many complaints as there are from neighbors about Outside Lands, there are apparently even more that want to be a part of it. Perloff also told the Examiner that around 15,000 tickets were sold to attendees in the three zip codes near Golden Gate Park for last summer's festival.
Given how many financial incentives there are in this new deal, especially for the always-beggin'-for-funds Rec & Park department, it's pretty unlikely that the city will pass on the new contract. So hold onto your hats Richmond District residents and bust out your earplugs – we'll be rocking out for 3 days every August for at least the next 8 years.
Sarah B.