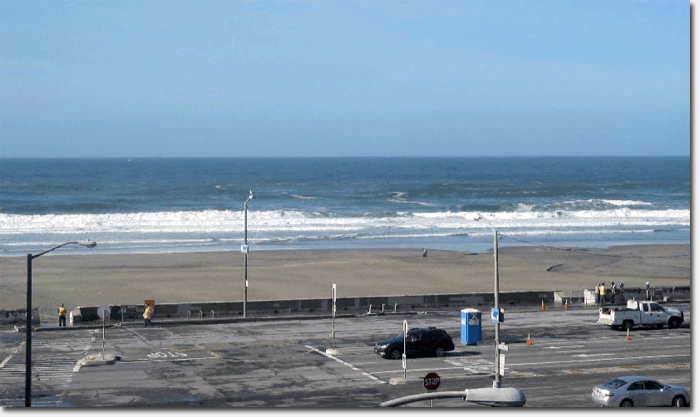 Yellow tape cordons off the closed section of Ocean Beach near Balboa. Photo courtesy of ob-kc.com webcam
Last night's storm caused some issues out at Ocean Beach today. SFAppeal reports that a section of Ocean Beach was closed off to pedestrians after an overflow was discovered coming from a manhole cover around 1am on Wednesday morning.
The spill came from a manhole near the intersection of Balboa Street and the Great Highway. The contents that leaked from the manhole spanned a block and covered parts of the promenade and the sand on the beach below. According to SFPUC spokeswoman Jean Walsh, the spill was 90% rainwater, but did contain some sewage.
Blog reader Robert B. spoke to a SFPUC crew member this afternoon who told him that they plan to leave the area closed to pedestrians for the next few days. This will allow the area can dry out so crews can then scoop out the affected sand.
The Ocean Beach Bulletin was also on the scene today and has photos and more details on the spill.
Sarah B.