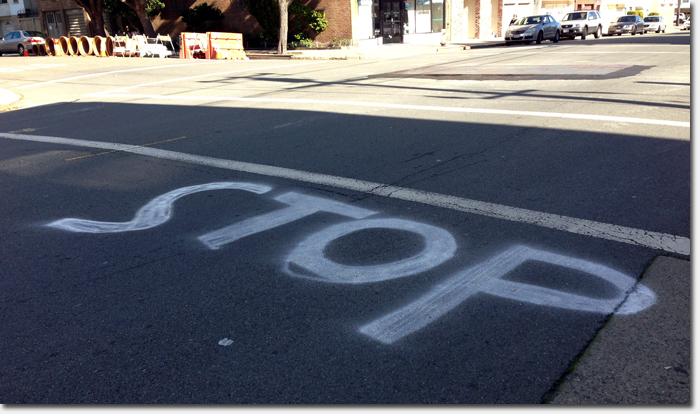 Someone who lives near 28th Avenue and Clement must want a stop sign really badly. So badly that they took it upon themselves to paint in their own STOP signs next to the crosswalks.
I discovered it while driving up Clement on Sunday, and had a moment of confusion where my brain was saying "Stop!" but the lettering didn't quite look right. On further inspection, there are also no red stop signs next to the intersections.
Legitimate stops already exist in the north-south direction of the intersection. There is sewer construction taking place on 28th just past Clement, but it doesn't appear that these "STOP"'s were painted as part of the project.
Nevertheless, most people were stopping at the intersection. We're trained to, right?
The SFMTA does have a process for taking stop sign requests – in fact they have a whole traffic calming section of their website.
But maybe this 28th & Clement traffic vigilante just got fed up? After all, their site does say "The SFMTA has temporarily stopped accepting applications to our Neighborhood Traffic Calming Program". They expect to reopen the process in Spring 2013.
Where's Claire Dunphy when we need her? She'd be all over this stop sign nonsense…
Sarah B.