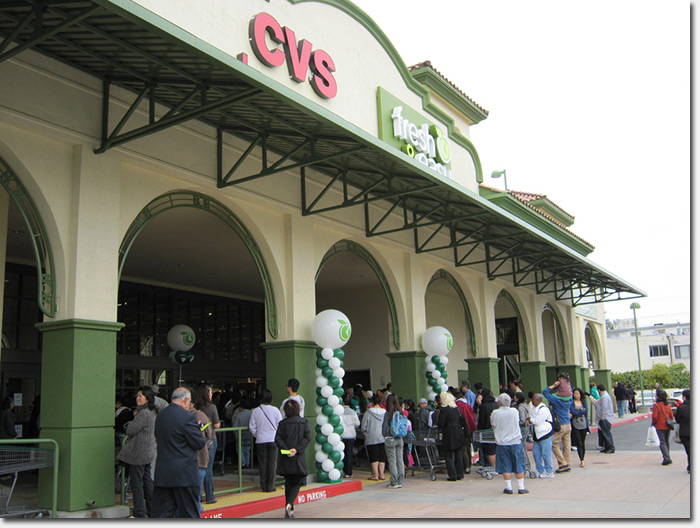 The grand opening of the Fresh & Easy store in June 2011
News hit the wires today that Tesco, the largest supermarket group in the UK, is launching a strategic review that may lead to the closure or sale of their US-based Fresh & Easy market chain of stores.
Only a few of the 200 Fresh & Easy stores in the U.S. are making a profit, and Tesco chief executive, Philip Clarke, said during a conference call that it was "likely that our presence in America will come to an end."
It's only been 18 months since the new Fresh & Easy Neighborhood Market opened on 32nd Avenue near Clement, and it's unclear from this latest news whether or not it will survive.
We reached out for a comment from Fresh & Easy spokesman Brendan Wonnacott, who had only this to say: "Our focus remains on our people and our customers. It is business as usual in our stores and we look forward to bringing our neighbors the same delicious, wholesome and affordable food they have come to expect from Fresh & Easy."
The Fresh & Easy brand has been around in the U.S. for about five years, but it was only in 2011 that San Francisco got its first two stores in Hunter's Point and the Richmond District.
Ideally Tesco will sell or partner with another company to keep the store here in the Richmond District open. Before the Fresh & Easy moved into 32nd and Clement, the building had been vacant for several years after an Albertson's Market closed down.
In its statement about the company's plans, Tesco said that it has been approached by parties interested in all or part of the business, or in partnership with Tesco, and that it would give an update on the situation in April 2013.
Fresh & Easy's fate is still to be decided, but it sounds like nothing will change until at least the second quarter of next year. And we'll assume for now that the neighboring CVS Pharmacy will stay put.
In the meantime, we will have a new Grocery Outlet store opening up in the old Delano's Market space at 28th Avenue and Geary early next year. So no matter what happens with the Fresh & Easy location, competition is going to get even stiffer.
Sarah B.
BBC: Tesco to review future of Fresh and Easy US chain
NY Times: Tesco Backing Away From U.S. Operations