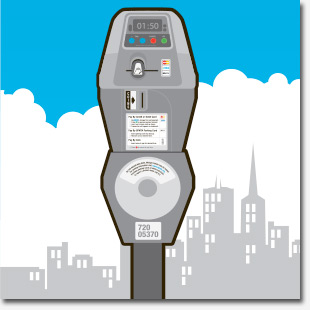 It's a new year and that means new ways for the SFMTA to grab revenue from residents and visitors to the city. Their latest brainchild goes into effect this weekend – metered parking on Sundays.
What was once considered a sacred right of San Franciscans – free parking meters on Sundays – will be a thing of the past beginning at noon this Sunday. Starting January 6, all parking meters across the city will be enforced from 12noon until 6pm every Sunday.
Here are a few extra tidbits about the new meter rules to keep in mind:
Sunday metered parking is enforced from 12noon until 6pm only.
Sunday meters will have 4 hour time limits. But per usual, you cannot "feed" the meter or exceed the four hour time limit.
Meters will be programmed for prepayment so you can pay even if you arrive before the meter is in effect. For example, if you arrive at 10 a.m. and need to stay until 2 p.m., you can pay at 10 a.m. for two hours starting at noon when the meter goes into effect. Prepayment can begin at 4:30 a.m. at any SFMTA meter as of January 6, 2013. If the meter is $2 per hour and you put $4 in the meter at 10 a.m., the meter will show payment until 2 p.m. (10 a.m. to 12 p.m. free and $2 each for 12 p.m. to 1 p.m. and 1 p.m. to 2 p.m.)
Meter rates on Sundays will be the same as those on Saturday
Meters that were already enforced on Sundays, such as those at Fisherman's Wharf (7am – 7pm) and the Port of San Francisco (7am – 11pm), will still maintain their regular, posted hours.
Aside from wanting to make more money for the city (which they don't really mention in their FAQ, ahem…), the SFMTA says they are enforcing Sunday metered parking to "make sure that motorists can easily find a place to park in commercial areas, which is currently very hard on Sundays."
Although parking has been free on Sundays since meters were first installed in the 1940s, the SFMTA says that unlike back then, businesses are now open on Sundays, making parking just as tough on Sundays as it is on Saturdays. Hence the need for meters to help increase parking turnover.
If you're tired of carrying rolls of quarters around or refilling your SFMTA parking card, you might want to check out the PayByPhone app which is available for iPhone, Android or Blackberry. Punch in the meter space number, enter the number of minutes you want, and submit your payment. The app will remind you via text message when you meter is running out and if you haven't hit the meter limit yet, you can add more parking time from the app (without having to trek back to your car).
Yes, there is a $.45 service fee for every PaybyPhone app transaction but it sure beats a hefty ticket and scrounging for spare change in your glove compartment.
Sarah B.