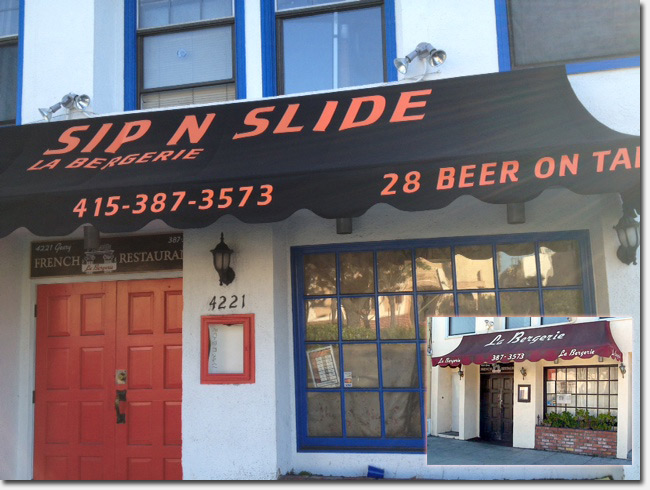 MELISA'S CHINESE FINALLY RE-OPENING
We got word yesterday that beloved Melisa's Chinese (450 Balboa) will finally re-open after a 6 month closure due to a fire at the print shop next door. Melisa's website says they'll open on January 7th "under the same management, same chef, same food".
NEW SUSHI BAR "SAKE SAN" SET TO OPEN
A new sushi bar, "Sake San", is set to open soon at 626 Clement. The space is undergoing a major redesign and is expected to feature four tatami seats on one large raised platform, three tatami-style karaoke rooms, and a 25 foot-long sake and soju bar. EaterSF says the menu will feature a full sushi and yakitori menu (plus they have some sexy renderings of what the space will look like).
LA BERGERIE UNDER NEW MANAGEMENT?
Reader Alissa sent us the above pic of a new awning that's on La Bergerie (4221 Geary). In the past it's looked a little dingy, and possibly deserted, but we've never actually tried to open the door. This new awning says "Sip N Slide" La Bergerie and mentions 28 beer (not beers) on tap. So perhaps the restaurant is under new management? If you know the details, leave a comment to let us know.
UNTERMAN REVIEWS CLEMENT STREET'S CHILI HOUSE
Food critic Patricia Unterman recently reviewed Chili House, a new Sichuan/northern Chinese restaurant that opened recently at 725 Clement. She writes that "Judicious ordering from the long Chili House menu will net an excellent neighborhood meal, casual and affordable, in a comfortable dining room", and makes special note of their Pancake with beef, Wasabi with Chicken and Pork Intestine ("Don't be scared off"), and Steamed Chinese Cabbage with Garlic. Her favorite dish is their Grilled Whole Fish. She closes with this advice: "By reading between the lines of the menu and taking some risks with some weird sounding dishes, you'll get some tasty rewards."
SHALOM, STRICTLY KOSHER
EaterSF mentioned last month that the 65 year old Israel's Strictly Kosher Market (5621 Geary) will not renew their lease in March. No word on whether they'll keep their catering business going.
Sarah B.