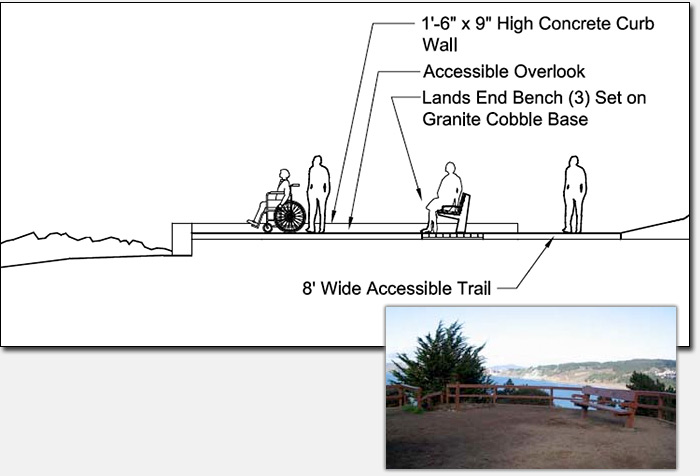 A drawing of the new Eagles Point lookout; the current platform (inset)
One of our favorite lookouts in the neighborhood is from Eagles Point, at the entrance to Lands End near 32nd Avenue and El Camino. It's a spectacular overlook of Baker Beach and the grand Golden Gate Bridge.
The Parks Conservancy and National Park Service are in the early stages of design for a new and improved lookout that would be located a bit further down the trail. Other planned improvements include stabilizing the trail, improving its surface, and removing unsafe or diseased trees.
This project will replace the existing deteriorated viewing platform with a new view point. The new view point will be accessible, easier to maintain, and set back within the trail alignment. The view point design includes benches for sitting and enjoying views of the Golden Gate. A small concrete curb will protect the viewpoint's outer edge. Non-native, invasive trees will be removed from the viewshed. The trail to the new viewpoint will be resurfaced and regraded to meet The Draft Final Accessibility Guidelines for Outdoor Developed Areas (AGODA) standards. Native vegetation will be planted in areas disturbed by tree and overlook removal and adjacent to the new viewpoint.
Stop by the current Eagles Point trailhead this Saturday, January 12 at 10am to check out the designs for the new lookout, and to ask any questions you have about the project. Or visit the project website for more information, or download the plan (PDF).
Work is scheduled to begin in Fall 2013.
Sarah B.