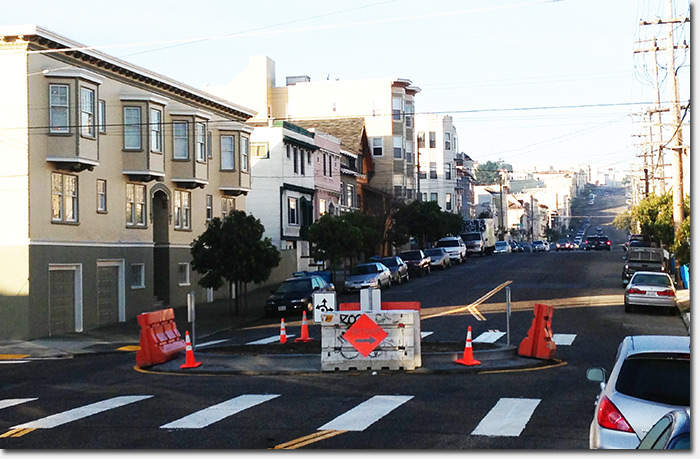 The new traffic circle at the intersection of 23rd and Anza
If you've driven down Anza recently, you may have come across a new traffic calming project that was installed at the intersection of 23rd Avenue – a traffic circle, sometimes referred to as a roundabout (in Massachusetts they're called rotaries).
Traffic circles are installed to slow traffic at an intersection. Traffic moves in one direction only around the circle – in our case, counterclockwise – and they are installed in lieu of traffic signals or stop signs.
This kind of traffic calming tactic is more commonly seen in Europe (perhaps you may have circled the Arc de Triomphe a few times while driving there on vacation… 😉 ).
It's the first in the neighborhood as far as we know, and as a result is taking some getting used to by drivers. One resident saw a car turn the wrong direction around the circle to expedite their left turn, and while taking photos, I observed most drivers coming to a complete stop before entering the intersection.
This new traffic circle is part of the SFMTA's larger traffic calming project for the Central Richmond, which is detailed here.
According to the project plan (PDF), traffic circles are also planned for Lake Street at 3rd, 5th, 7th, 8th, 10th, 11th, 17th, 21st, and 24th Avenues.
"Traffic circles along Anza and Lake Street will slow vehicles within intersections and lead to slower, steadier speeds throughout the corridor," writes the SFMTA in the plan.
Funding is secured for traffic circles at the 17th, 21st, and 24th Avenue intersections of Lake, but future funding will be required to install them at the other intersections.
Have you driven through the new traffic circle? What did you think of it? Are you looking forward to having more of them in the neighborhood? Leave a comment to let us know.
Sarah B.