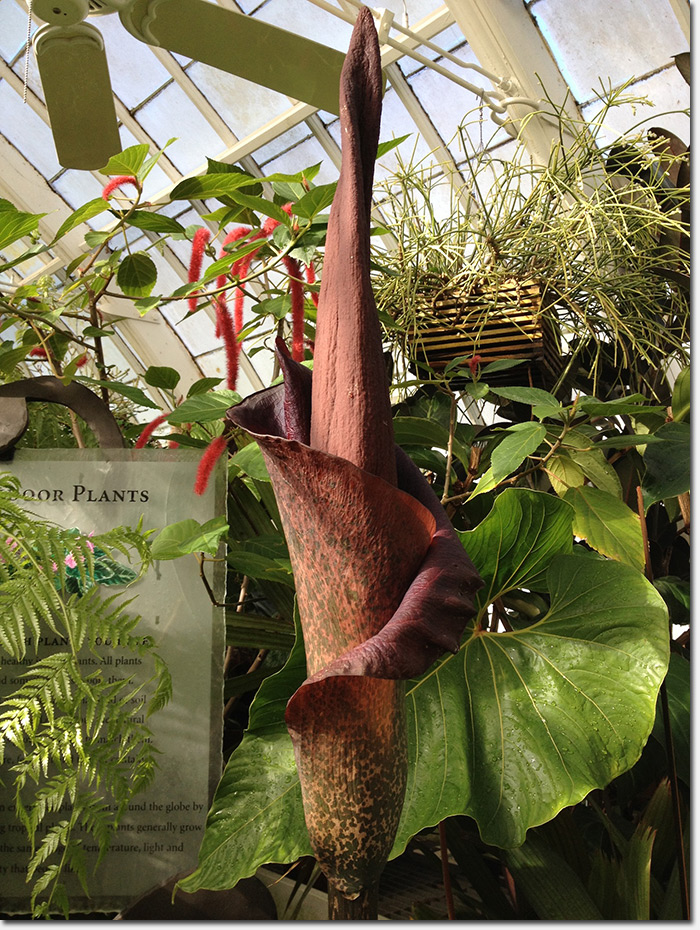 Photo by Judy Fayollat
The team over at the Conservatory of Flowers sent us this photo today of the infamous Voodoo Lily, also known as the "Devil's Tongue" (scientific name: Amorphophallus konjac). It's breaking into full bloom this week which means it will reach a height of five feet tall and give off its signature scent – of dead rats.
While the plant's smell will have most Conservatory visitors plugging their noses, it's a seductive lure for the beetles and flies that pollinate the Voodoo Lily in its native habitat of tropical and sub-tropical Eastern Asia.
This smelly, raw-liver colored "beauty" has been cultivated for its tubers in Asia for thousands of years. Its starchy corms are processed into both a flour and jelly. In Japanese cuisine, a gelatinous cake called konnyaku is used in dishes such as oden and is also cut into noodle-like strips. In China and other parts of Asia, it is often processed into a fruit jelly snack, but these candies prompted recalls and food warnings here in the United States after several highly publicized choking incidents among children. A. konjac is often used as a diet food, as it has no calories and is high in fiber. The Japanese have called it "a broom for the intestine." Lipozene is made from A. konjac. A. konjac is also used widely in cosmetic products.
The Voodoo Lily bloom will peak on Tuesday and should last for several days. To see it (and smell it!), stop by the Conservatory of Flowers in Golden Gate Park and make your way to the Potted Plants gallery. And while you're there, don't miss the Boomtown: Barbary Coast Garden Railway exhibition.
The Conservatory is open Tuesday through Sunday, from 10am until 4:30pm.
Sarah B.