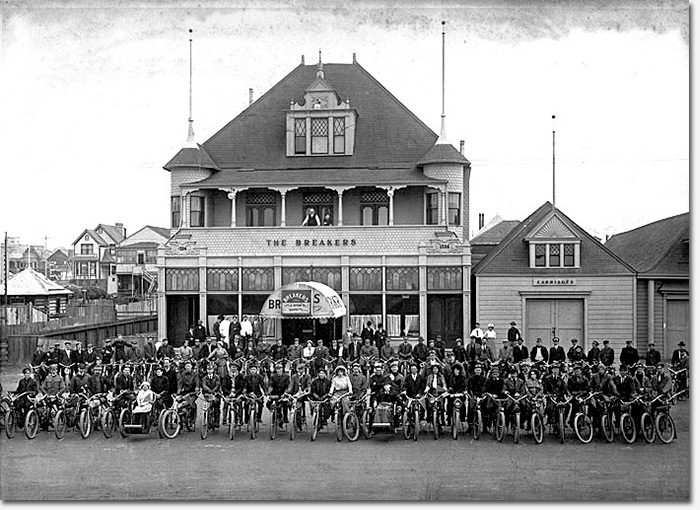 The Breakers roadhouse on Great Highway with San Francisco Motorcycle Club posing, circa 1910.
Courtesy of Glenn Koch & outsidelands.org
Though the Richmond and Sunset Districts are often thought of today as sleepy communities, once covered in sand and known as the Outside Lands because of their proximity to the real action of downtown San Francisco, there was a time when the neighborhoods were home to a sin city of sorts, attracting dwellers to roadhouses, saloons, race tracks and other forms of colorful entertainment.
Those days are long gone, but last week, we got a glimpse into their raucous past when historians Woody LaBounty and David Gallagher of the Western Neighborhoods Project announced that they had unearthed relics from an old roadhouse called "The Breakers" within the floorboards of 1536 La Playa.
It all began with a great photo that went up for auction on ebay of The San Francisco Motorcyle Club posing out in front of a roadhouse called "The Breakers", circa 1910.
Woody recognized the building right away because a couple of years earlier, they had been contacted by the owner of the 1536 La Playa property (which is more accurately 1536 Great Highway) about its colorful history. In 2010, Woody and David visited the nondescript building to see what they could find as evidence of the roadhouse that was once there, but all they saw was some old wallpaper and light fixtures. While they were there, they noticed another hatch door but the owner didn't have the key on hand.
After winning the ebay auction for the photo, Woody and David got back in touch with 1536 La Playa and made another visit, this time with full access. And what they found this time around was beyond anything they imagined as they opened hatches in the ceilings and climbed into crawlspaces to see up close what had been sealed off during the building's various upgrades and post-fire remodels.
"Gargoyle" fish jut out from the mouldings, column capitals, marine scenes, and wall carvings are just a few of the architectural surprises that they found, dating back to the glory days of the roadhouse which closed just before WWII.
Read the full story and see more photos at outsidelands.org
Representatives of the Western Neighborhoods Project will show a presentation on Ocean Beach roadhouse history and the discovery of the reliefs on Saturday, February 16, 2013, 7:00pm at 3 Fish Studios, 4541 Irving Street near 47th Avenue. Admission to the presentation will be free.
Thanks to Woody and David for the sleuthing and most importantly, the preservation of this bit of the West end's colorful past! It's why we love the Western Neighborhoods Project 🙂
Sarah B.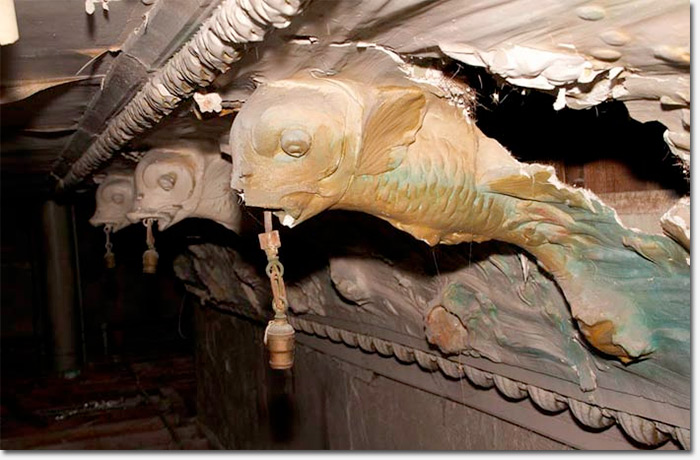 A row of gilded lighting fixtures hidden between floors of 1536 La Playa. – Photograph by David Gallagher. Courtesy of outsidelands.org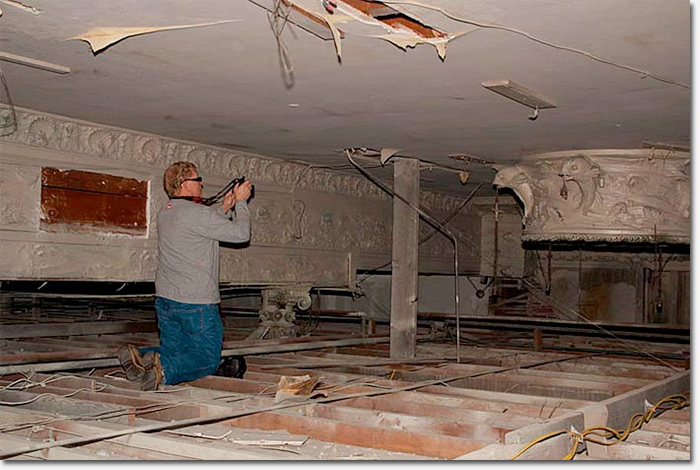 Photographing roadhouse decorative elements between floors of 1536 La Playa. – Photograph by David Gallagher. Courtesy of outsidelands.org