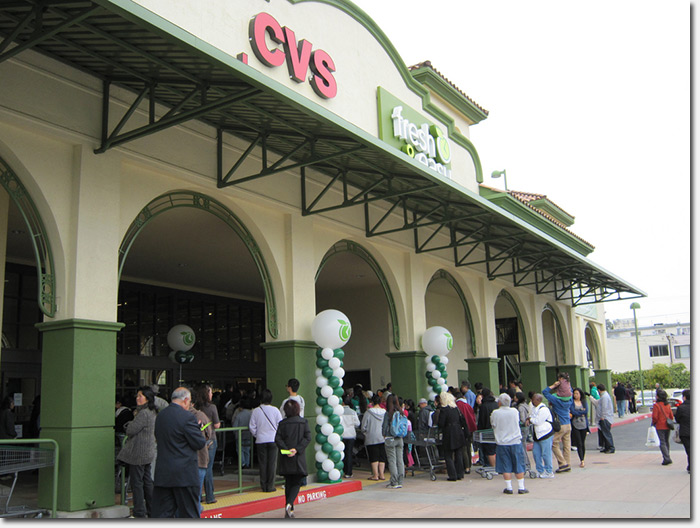 Back in December, Tesco, the largest supermarket group in the UK, announced that they were looking into divesting or possibly closing their Fresh & Easy Neighborhood Markets here in the U.S., due to low profits.
The Fresh & Easy on 32nd Avenue at Clement (home of the hybrid only parking spots) has only been open for 19 months, and residents worry that it could once again become an empty storefront if Tesco shuts down the chain.
Earlier today, Fresh & Easy sent an email out to its "Friends" mailing list, reassuring customers that although they are not 100% certain what the future holds, they are committed to keeping their stores open.
===========================
Thank you for being a Friend of Fresh & Easy. We wanted to reach out to you to address numerous news and online reports about the future of our stores.
Our parent company Tesco is conducting a strategic review of Fresh & Easy – they're looking at all options to find the best outcome for the neighborhood market that you – and we – have come to love. While we don't know exactly what that outcome will be, or if Tesco will continue to own the company, we're confident that Fresh & Easy can continue to be your favorite market.
We want to assure you: we don't have plans to close stores. We're still committed to providing delicious, wholesome and affordable food every day. We're still Fresh & Easy; open for business with everything that you enjoy about our store, with even more exciting things to come. That's why we're going to keep on fighting the good food fight.
Now, more than ever, we appreciate your energy in our stores and being able to share a smile with you. We look forward to seeing you soon and thank you for your continued support.
The Fresh & Easy Team

===========================
You could read the email a few different ways, but the clearest message is that while Tesco still owns the chain, they will not close any of the existing stores. So you can expect the 32nd Avenue location to stay open for the foreseeable future.
But how long Tesco will continue to own the chain remains to be seen.
Let's hope that Tesco finds an interested party to take over the chain, or at least the San Francisco outlets. We'd hate to see that become an empty storefront again (as we're sure the CVS next door doesn't want to see either).
Thanks to reader Jan for the tip.
Sarah B.