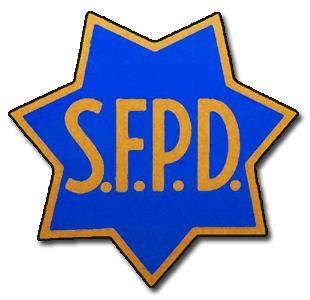 [Reprinted from The Richmond Police Station Newsletter of February 8, 2013. To be added to the station's mailing list, email sfpd.richmond.station@sfgov.org.]
CAPTAIN SHARON FERRIGNO'S MESSAGE
Richmond Station has been conducting traffic enforcement operations along our busier corridors. We will be citing drivers and pedestrians in an effort to keep everyone safe. Drivers, please slow down for pedestrians, and pedestrians please use crosswalks and pay attention to motorists.
We have launched a safety campaign along with our partners at SAFE Safety and Awareness For Everyone to ring in Chinese New Year. Gung Hay Fat Choy
Our next Community meeting will be held on Tuesday, February 19, 2013 at 6pm. It will be in the Community Room, here at Richmond Station, 461 6th Ave. (NOTE TIME CHANGE)
NOTEWORTHY ARRESTS
On 02/04/13 at 11pm, officers were patrolling the area of the 600 block of 6th Ave, when they observed a male standing in front of a garage, illuminating items on the ground in front of him. They stopped to talk to the male and recognized him from prior contacts. Prior to conducting a pat search the officers asked if he had any items in his possession that would be harmful. The male told the officers that he had a syringe in his bag. When asked if he had on his person, he replied, "I have a little meth in my pocket." The 28 year old male was charged with narcotic violations.
On 02/05/13 at 11pm, plainclothes officers were in the area on the 2700 block of Fulton where they observed a vehicle that appeared to have people inhabiting it. As they got closer, they observed two people sitting on the sidewalk next to the vehicle. The officers stopped to speak to both parties and the male kept fidgeting and placing his hand in his pocket. The officers discovered that he was in possession of methamphetamine. The female suspect was also in possession of narcotics. While continuing their investigation, a male approached the officers and said that the car belonged to him, and the other two were friends of his. He said that he had just been in Golden Gate Park, as he had lost the key to his car and was searching for it. Officers asked for his identification and he told them it was locked in his vehicle. The officers were given permission to help get into his vehicle so he could store his belongings and they could look for his identification. The officers were able to gain access to the car and along with finding his ID, they located additional narcotics. The three were charged with narcotic violations.
On 02/06/13 at 7:45pm, officers were sent to the area of Fulton and 20th Ave on a report of a suspect looking into the windows of parked vehicles. Officers located the suspect at 26th and Fulton and the officers told him to show them his hands. In doing so, the suspect dropped a sparkplug from one hand and a media case from the other. The officers knew that sparkplug chips are used to shatter the windows of vehicles. In the suspect's possession was a GPS, change, make-up case and an iPhone charger. Officers located two vehicles that had been broken into and located the owners. Both victims confirmed that the property located on the suspect belonged to them and had been in their vehicles. The 35 year old male was charged with auto burglary, possession of stolen property and possession of burglary tools.
NOTEWORTHY INCIDENTS
On 02/01/13, between 12am and 5am, on the 3400 block of Geary, two businesses were broken into. The suspect broke the glass on the front doors and took cash from the registers.
Between 02/02/13, 8:30am and 11:30am on the 500 block of 7th Ave, a garage door was stuck in the open position
and a repairman was fixing the door. Just inside the open door was a violin in its case and at some point an unknown person took the items.
On 02/03/13, between 8:30pm and 9pm at 24th and Fulton, a suspect removed a bike from its rack attached to the rear of a vehicle.
On 02/06/13, between 7am and 10:15am on the 400 block of Lake St, a suspect entered an apartment building by unknown means. The suspect the cut the chain on a bike and took it.