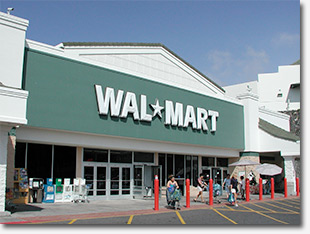 Fresh & Easy Neighborhood Markets are not doing well for their parent company, Tesco, and as a result, the UK conglomerate is looking for a way to unload their 200 stores.
They announced in an email last month that they don't plan to close any Fresh & Easy stores in the meantime, but that they are exploring the option of selling the stores to another retailer.
Today the Examiner started the rumor mill churning with mention of WALMART as one of Tesco's potential buyers for the Fresh & Easy chain.
"I have heard that Tesco is having conversations with Wal-Mart and that Wal-Mart has expressed interest in purchasing Fresh & Easy locations," San Francisco Supervisor Malia Cohen, who has a Fresh & Easy market in her district, told the Examiner.
San Francisco, in particular the labor unions, has never been very welcoming to the idea of WALMART joining the list of city retailers. But purchasing the Fresh & Easy business would make WALMART'S entry considerably smoother.
San Francisco has three Fresh & Easy markets currently – ours at Clement Street and 32nd Avenue, one at Silver Avenue and Merrill Street, and one at Third Street and Carroll Avenue.
If Walmart purchases Fresh & Easy, they could move into existing locations without too much red tape, including the Richmond District location.
"When stores in special commercial districts (like the Fresh & Easy on Clement Street) shut down, the new tenant usually has to get a special authorization to operate. But if the new company has purchased the old company, no authorization is required," wrote the Examiner.
So blog readers, how would you feel about a WALMART taking over the Fresh & Easy space? Please expound in the comments.
Sarah B.