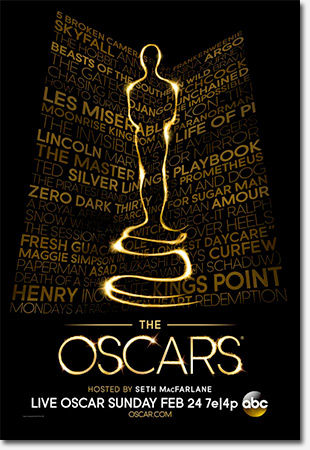 Join other movie fans at the Balboa Theater on Sunday evening to watch the 85th Annual Academy Awards. The event begins at 2pm for the Red Carpet coverage, with the main ceremony beginning at 4pm. View this year's list of nominees
The festivities will be hosted once again by Reed Kirk Rahlman (the real thing is hosted by Seth McFarlane), who had this to say about the event:
Once again I have the honor of hosting. I have opinions about the nominees (Les Mis? Best Picture? Really?) and I'm sure you do too. And I want to hear them!
I also want to hear about your Tenuous Oscar Connections. Do you work with someone who saw Jessica Chastain at Starbucks? Know someone who was Joaquin Phoenix's orthodontist? Tell the story—there's a prize in it for you. Do you have a favorite film that no one else has heard of? Share it with the audience. And costumes are always encouraged.
So don't sit home and watch. Come share the experience of the movies as they should be experienced—at a theater filled with Oscar fans. It's more fun, and you don't have to clean up the living room afterward.
Hope to see you there.
Tickets are $10 per person ($7.50 for Seniors and children) and can be purchased in advance on the Balboa Theater website.
What's your vote for Best Picture this year?
Sarah B.