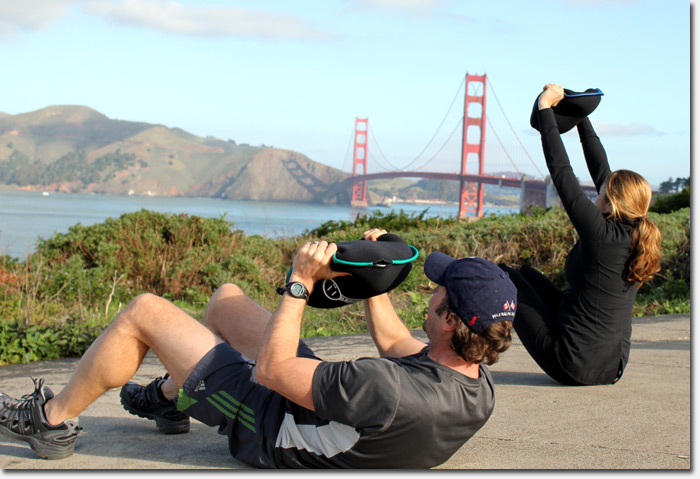 Bright1Fitness members workout in the shadow of the Golden Gate during a Saturday class
Last weekend, I tried out a new group fitness class that is starting up in Mt. Lake Park, the Presidio and Golden Gate Park. It's called Bright1Fitness and it's headed up by Brighton Miller, a Richmond District resident and personal trainer.
Miller has been a fitness trainer for 5 years, including work as a group fitness instructor for local bootcamps. She chose the Richmond District to base her business because it's close to home and the surroundings fit in well with her philosophy on how to make fitness more fun.
"I love to use our amazing city as a gym – hills, stairs, beaches, parks – which is all right in our own backyard here in the Richmond District," Miller says.
I attended the 9am class last Saturday, which meets at Immigrant Point in the Presidio, just above Baker Beach (and a quick walk up from the 14th or 15th Avenue gates near Lake Street).
It was a crisp, clear day and we started out with a vigorous warm-up jog that took us down stairs through eucalyptus trees, along a trail to a bunker overlooking the Pacific, further down some stairs to the practically secret Marshall Beach, and then back up to the road. I was huffing and puffing while taking in the gorgeous vistas – but so was everyone else.
"One of the benefits of a group outdoor class is that you're motivated by the people around you," Miller says. "I've seen people in my classes discover new talents because they were pushed by others to try new things."
After our warm-up run, we each grabbed a "sand bell", which are neoprene bags filled with pounds of sand (in this case filled with the very best local sand from Ocean Beach). Miller has them in 15, 20 and 25 pound increments for every fitness level. Sand bells are often compared to kettle bells but they are way more versatile – and less dangerous if you whack yourself in the leg or accidentally drop it on your toe. 😉
We slung the sand bells on our shoulders and walked down to the bunker which offered spectacular views of Baker Beach and Lands End to the left, and the towering Golden Gate Bridge to our right. This is called working out with one of the best views in the world.
Miller's workouts always include a high intensity, short interval section which is designed to increase your endurance and build strength. The workouts are comprised of a set of exercises that you do for repetitions or for time, trying to complete as many sets as you can over a 10-20 minute period.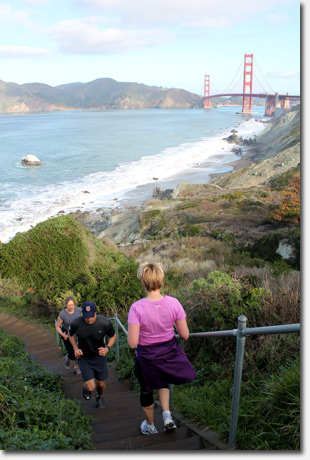 At Saturday's workout, we had four things to complete in each round: pushups, squat thrusts (with the sand bell), sand bell swings, and horizontal pulls on the railing of the bunker. After completing those, we had to run down 80 stairs and back up, then rinse and repeat. We had to do three sets in total – 20 repetitions of each in the first set, then 15 in the second, and 9 in the final set.
I was sucking wind for most of the workout, but I was motivated by the group, especially the guy next to me who made it all look pretty easy. And even though it was a tough workout, everyone completed it because they could go at their own pace.
"My classes welcome people with various fitness levels, so the workouts are designed to be challenging for everyone – but not impossible," Miller says. "I want people to feel like they've accomplished something, and that they had a good time doing it."
Miller says her coaching style was best described by one of her clients – "warm yet demanding". She's not a drill sergeant barking orders, but she'll push you to work hard and encourages a supportive environment in class.
After the high intensity section, we did a few exercises to target our core (abdomen), including a distracting yet effective plank that had us moving the sand bell up and back a straight line while we were in the push-up position. After a couple of rounds of that, we walked/jogged back up from the bunker to Immigrant Point, where we cooled down and stretched.
Another benefit to group workouts seems obvious but it's worth mentioning – meeting new people, many of them from my own neighborhood.
One woman lived close by in the Presidio and was there to get back into shape after taking time off from working out. Another was a personal training client of Miller's who wanted to supplement her solo workouts with a group class. A married couple joined the class so they could workout together.
"I also like the group dynamic because I push myself so much harder than I do when I workout on my own," the husband said.
Bright1Fitness' outdoor group fitness classes are offered at a variety of locations and times, including morning classes in Mt. Lake Park (6am, 7am) and the Presidio (10:30am), evening classes in Golden Gate Park (6:30pm) and Saturday mornings in the Presidio (9am). Miller also offers personal training.
Bright1Fitness offers a range of price packages, depending on how often you want to come out. Rates start at $120 a month for 2 classes per week. You can take your classes in the same location, or split between one or more locations.
Plus, through March 15, Bright1Fitness is offering an additional 20% off the first month to readers of the Richmond District Blog. Just mention the blog when you're signing up (new signups only; discount is limited to first month only).
So no excuses, readers! If you had a New Year's resolution to get fit and it seems to be slipping away, here's your chance. Your first class is free, so why not come out and give it a try. And if you do decide to sign up, you get 20% off.
Thanks to Bright1Fitness and my classmates from last Saturday for a great workout – I'm looking forward to more "push-ups with a view"!
Sarah B.