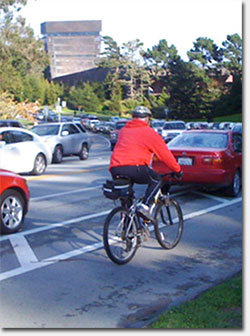 This Thursday night, the Richmond District Democratic Club is hosting a public forum/discussion on the new bike lanes in Golden Gate Park as part of their February meeting.
The RDDC has invited members from the SF Bicycle Coalition, pedestrian safety, seniors' advocates, and the SFMTA to join the discussion.
The bike lanes sparked a lot of discussion here on the blog in an article last month entitled Bicycle Lane in Golden Gate Park Cause for Concern.
Comments about the new lanes were very mixed, and included negative reviews from cyclists who say the new configuration is detrimental to drivers, pedestrians and cyclists.
The RDDC meeting will be held this Thursday night in the Richmond District Police Station Community Room, 461 6th Avenue from 7pm until 8:30pm.
Sarah B.