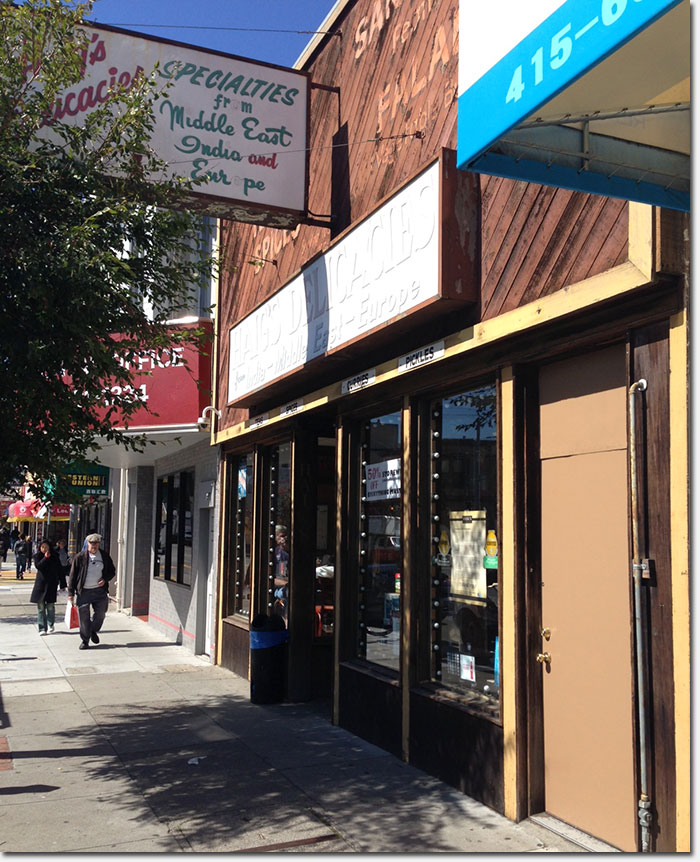 We've received emails this week from readers who are saddened by the news that Clement Street's Haig's Delicacies, a veritable neighborhood institution, is closing its doors after 57 years in business.
The family run business is known for their selection of foods from Europe, Southeast Asia, India, the Mediterranean, and the Middle East, including rare and unique spices, teas, coffees, and gifts. They're especially well known for their Mediterranean foods, many of which are available in retail grocery stores throughout the Bay Area.
My memory of Haig's from when I was growing up was going in with my mom to pick up their Aram sandwiches (in fact she might have double parked and made me run in!). She used to serve them at parties. To this day, the spicy smell of Haig's when I walk in brings back memories.
We stopped by the store this afternoon where everything is 50% off until it closes later this month. We couldn't resist picking up some black licorice. The shelves are emptying quickly.
But the mood in the store was somber, as customers entered and learned the news that one of their favorite neighborhood stores would be disappearing.
Haig's has a healthy wholesale business for their line of Mediterranean products, including hummus, babaganoush, tsatziki and more, which will continue after the store closes. Their products used to be made and distributed from the Clement Street location, but the operation moved to Hayward in 2009. Their website lists hundreds of grocery stores in the Bay Area where their products can be purchased including Whole Foods, Bi-Rite Market, and Real Foods.
Haig's has a letter posted on the front of the store, which includes this thanks to its customers:
Our retail store of Haig's Delicacies has had a wonderful run since its inception in 1956, having garnered the attention of James Beard in the early days, and the love of a multitude of cookbook authors, food enthusiasts, and locals over the years. The company is still owned and operated by our family, and we're so proud and happy to have served this community and to have the retail store be considered a place to visit when walking along Clement St. in the Inner Richmond.
The store was opened in 1956 by Haig, an Armenian immigrant from Istanbul, Turkey. It was one of the few places in the city where you could find a falafel sandwich, and Haig's quickly attracted attention from food lovers and chefs for their unique selection of international foods.
From what we've been told, the closing is not due to any rent issues, but more because the family has decided it's time to close this part of the business and focus solely on the wholesale side.
To find out more about Haig's and keep up with their business even after they close their 642 Clement Street location, visit their website, or follow them on Facebook or Twitter.
What will you miss most about Haig's? Leave a comment to let us know. Thank you to Haig's for being such a great part of the Richmond District community!
Sarah B.