The intersection of 22nd and California, where sidewalk bulb-outs will be installed.
Well they aren't traffic circles, thank goodness, but the SFMTA is planning to install additional traffic calming measures on California Street at 21st and 22nd Avenues.
These changes are part of a larger Central Richmond Traffic Calming Project (PDF) which has been underway since 2007. The project is designed to slow down traffic and increase pedestrian safety at designated intersections between Lake and Fulton, and 12th and 25th Avenues.
Once you cross Park Presidio on California Street heading west, the street becomes a favorite for drivers who are working their way to the outer avenues. That's because there are very few stop signs – only a couple between 14th and 22nd Avenues.
To help slow down the cars coming through – without installing stop signs – the SFMTA is utilizing traffic islands (also known as median islands) and bulb-outs at intersections.
Traffic islands are planned for the intersection of 21st and California, which would extend out 45 feet in either direction from the intersection, tapering in width. The goal is that pedestrians would have a "safe harbour" as they cross the busy street, and as they wait, be up higher, and more visible to drivers who can stop to let them walk across. The cost for traffic medians range from $10,000 to $75,000 depending on their size.
At 22nd Avenue and California, which already has a stop sign, new bulb-outs will be installed at the bus stops on the northeast and southeast corners. Bulb-outs are designed to reduce the distance that pedestrians have to cross and make it easier for approaching vehicles to see pedestrians that are waiting to cross.
Buses will also have to negotiate the bulb-outs which means that when a bus is stopped to pick up passengers, there will be no getting around it. Bulb-outs also make it difficult for trucks to make right turns, which could be problematic for the many trucks that deliver to the market. The cost for a bulb-out? $50,000 to $150,000 each according to the SFMTA.
We've heard complaints about driver's habits at the intersection of 22nd and California before. It's a busy spot with the market on one side, Angelina's on the other, 2 bus stops, and an elementary school on 22nd Avenue. Swing by there around 8am on a school day and it's pretty crazy between the double parked cars, school kids being dropped off, and people grabbing their morning coffee.
A public hearing was held back on December 28, 2012 about these planned changes, and signs were posted on the utility poles at each intersection. However it's likely that most residents, unless they happen to take MUNI, don't know that these changes are in the works.
One neighbor who lives at 22nd and California, thinks the proposed traffic islands are not appropriate for the intersection.
"As a pedestrian, I would never stop on the island! Even with parking spots removed, it is still too narrow and will only direct the speeding cars closer to pedestrians as they go around. I don't believe this will even remotely slow them down."
Do you live near these intersections and use them regularly? Leave a comment to let us know what you think about these upcoming changes.
Sarah B.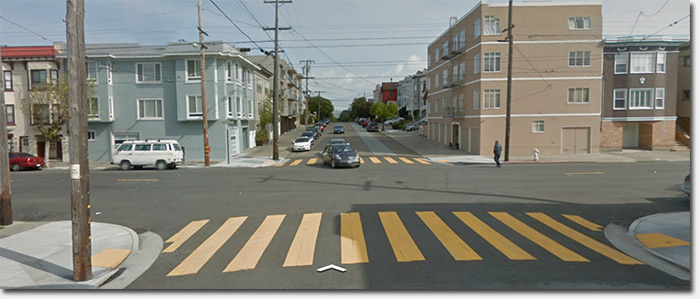 The intersection of 21st and California where traffic medians will be installed.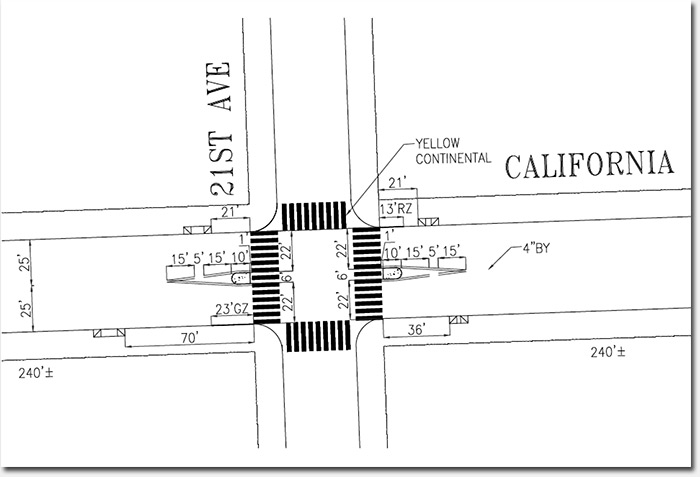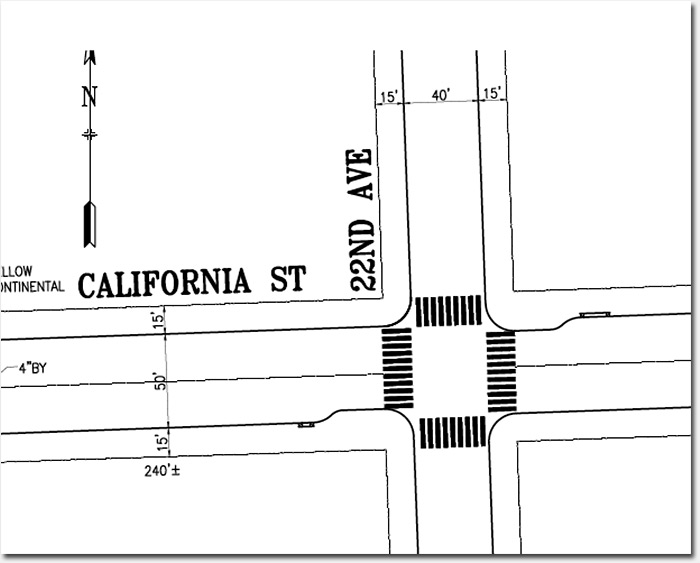 5:13 am | Posted under
Traffic
|
20 comments