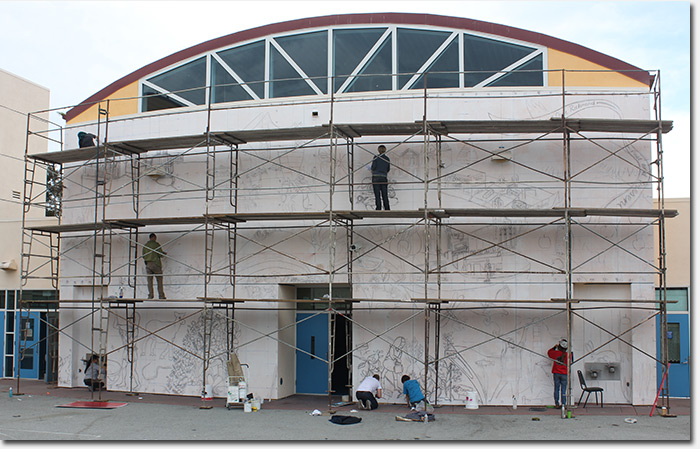 Argonne Elementary School debuted their new play structure at the start of the 2012-2013 school year, and now work is underway on a new schoolyard mural.
In July of last year, the Mayor's Office handed out a round of Community Challenge grants to local residents, businesses, schools, non-profits and other community groups for greening and beautification improvements. Among the 28 recipients was the Argonne Elementary School Parent Teacher Organization (PTO), who received a $20,000 grant for a new mural in the schoolyard.
The new 53 ft. x 24 ft. mural will be painted on a south-facing wall of Argonne's schoolyard, and will be visible from both Cabrillo and 17th Avenues.
The mural, designed by Precita Eyes Muralists, includes illustrations about the history of California as well as the school's neighborhood, the Richmond District.
The mural theme is "Connecting the Richmond's Past to Its Present." The images were inspired by drawings by Argonne third graders, representing what is important to their neighborhood and schools, as well as San Francisco history. "A mural celebrating the Richmond's evolution from sand dunes during the era of the Ohlone to a thriving, multicultural community."
Playland and Sutro Baths can be seen in the mural, along with the Conservatory of Flowers, Alexandria Theater, and the school's own community garden mirrored alongside Ohlone Indians tending to a garden. A lion dancer and the Green Apple mascot rest on an open book in the middle of the mural.
This Saturday, the school is hosting a community painting party, and anyone is welcome to come by and contribute their painting skills. Don't worry – the mural is being sketched onto the wall this week, so as long as you can paint between the lines, you'll be good to go. 😉
The painting event runs from 11:00 am to 4:30pm. If you do plan to attend, please RSVP to greenargonne@gmail.com.
The project also has a Kickstarter campaign to help raise the final $3,888 that is needed to fund the project.
Thanks to organizer and Argonne PTO parent Tina Eshaghpour for providing photos. We can't wait to see the finished mural!
Sarah B.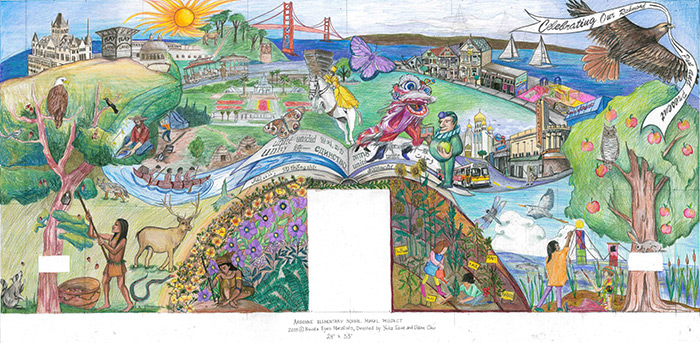 Click to enlarge. The drawing of the new mural planned for the schoolyard at Argonne Elementary School