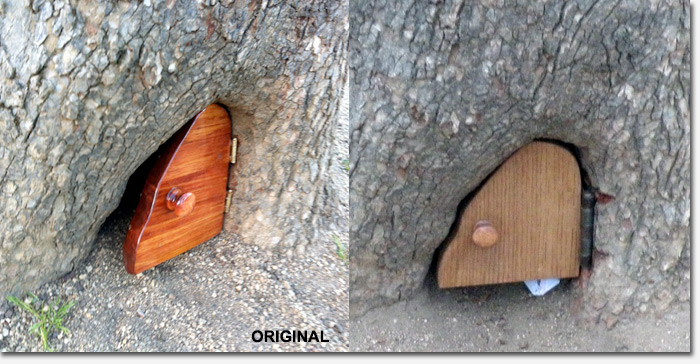 The original door on the left (Photo: Erica Reh); and the new one on the right (Photo: Tony Perry)
As you may have heard, it was Rec & Park that was responsible for removing the lovely and whimsical fairy / elf / squirrel door from the base of the tree in Golden Gate Park. You know, the one that got local, national and even international media attention…
It disappeared on Tuesday without any explanation but after outcry from residents (and heartbroken visitors who wandered aimlessly around the concourse looking for it), Rec & Park put it back.
But there's a catch – what they put back is not the ORIGINAL door. Check out the beautifully crafted original one on the left in the above photo – then check out its inferior cousin on the right. Boo. Hiss.
Rec & Park, despite telling local media that they had no plans to remove it, did just that. They claimed that the tree, which had small screws attaching two very small hinges to the tree, were damaging the tree.
Get a load of the hinge on the new door! That looks a little more substantial to us… And why not just put the original back?
This is all for naught anyway, as Rec & Park told the Chronicle that they will remove it forever soon.
"Our well-intended and professional staff removed the door, as it is our policy to remove anything bolted to trees," Rec and Parks spokeswoman Sarah Ballard said in a statement to the Chronicle.
We think the elf living in there probably muttered something like "&$@%# hogwash!" upon hearing the news.
Thank goodness President Obama didn't try to stop by and see it last night. Now THAT would have been embarrassing!
Sarah B.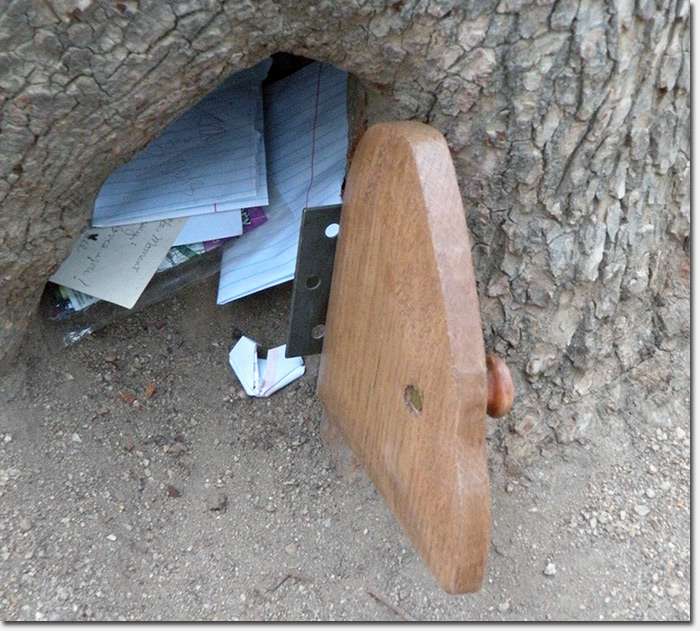 Photo by Tony Perry