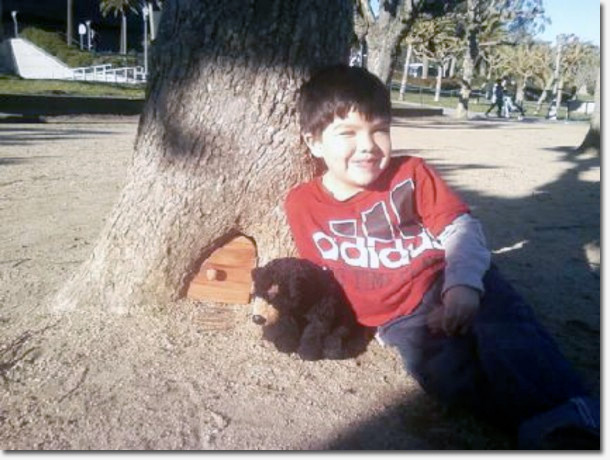 Rio, the 6 year old son of the door's creator, Tony Powell, poses with the door after it was first
installed in February. Photo: Tony Powell | SF Chronicle
We got an email last night from someone named T. Powell, that began with "Thank you for shining your light on the little fairy door my six year old son Rio and I made and quietly mounted last February."
Today, the Chronicle posted a story about the same man, whose full name is Tony Powell. It was Tony, and his young son Rio, that created and installed the door at the base of the Golden Gate Park concourse elm tree back in February.
Tony and his son live on a boat in the San Francisco Bay, which may be equivalent to living under a rock of sorts. That might explain how they missed the international media attention that the door has attracted.
"Until a few days ago, we had no idea it had been getting so much attention," Tony wrote to us.
After hearing about the hype, Tony returned to the tree recently and witnessed the impact it has on visitors.
"Yesterday we went to see, and from afar we watched many folks come around the tree and open the door to leave notes and flowers and such. Even though our original door was removed (and its hinges most likely damaged with its removal), the spirit is still there," Tony wrote.
"It has been really gratifying to see that people besides us are still full of wonder at such things in modern day."
Tony and Rio designed and crafted the door from scrap pine over a period of a few months, then added a knob and marine-grade varnish for the finishing touch. They installed it around Valentine's Day.
Inspiration for the door comes from the ages, Tony explained.
"Of course people have given recognition to the creative spirits of nature for ages. The Greeks called them by such names as Dryads (tree spirits) and Naiads (spirits of stream and lake), and the Irish called them the Sidhe (pronounced "shee" as in banshee)."
It took over a month for word to spread about the door's existence. But once it did, people couldn't get enough of it. Visitors flocked to it, leaving notes, offerings and spinning theories on what it meant.
Was it a fairy door? Did elves live inside? Would wishes be granted if you left them inside the door?
But Rec & Park, despite telling local media they had no plans to remove it, changed their mind and removed the door without any explanation. That resulted in a lot of disappointed visitors (including this blogger), who found only an empty hole and a couple of notes and twigs that were left behind.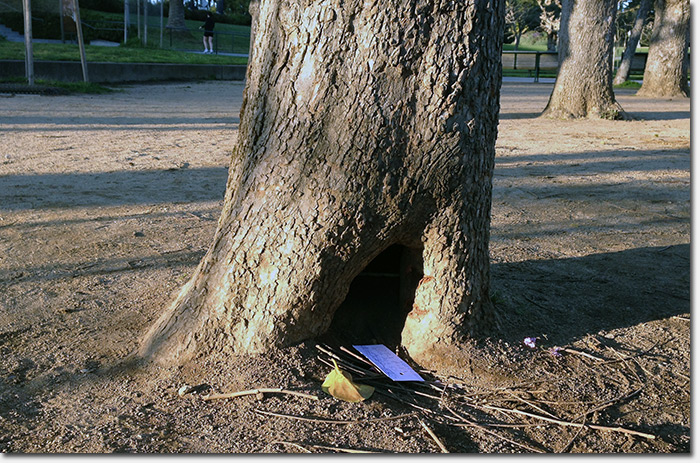 The door-less tree after Rec & Park removed it.
There was enough backlash that Rec & Park had to react – albeit in a very unexpected way. They installed an imposter door, which was nowhere near as lovely as the original. Their PR person said the door was removed because its hinges were damaging the roots, and the varnish on the door was toxic to the tree. Boo.
And eventually, even the fake replacement door will be removed, as it violates the policy of Rec & Park which prohibits anything from being attached/nailed to park trees. Double boo.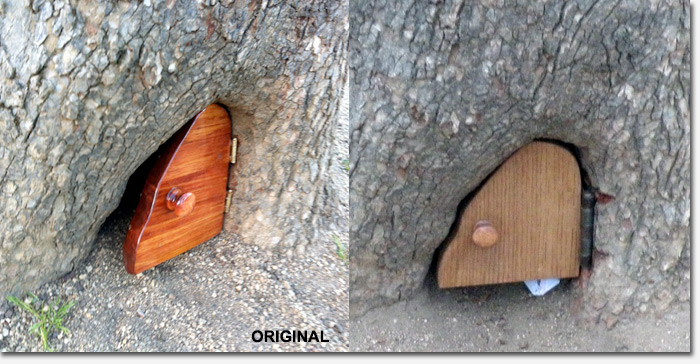 The original door on the left (Photo: Erica Reh); and the Rec & Park imposter version on the right (Photo: Tony Perry)
Despite the bureaucratic melee, Tony and his son don't seem deterred. He told the Chronicle that he's trying to think of a way to create a new door that doesn't have to be attached to the tree.
"We love Golden Gate Park and all of its art and magic and we know well that the creative spirit of nature is still all around us, creating things like trees budding and thrushes nesting and tears of fog dripping from the redwoods, and also fashioning little doors in hollow trees as well as making offerings to it," Tony wrote to us.
He and Rio were touched by the offerings people left inside the door, so much so that Tony couldn't resist answering one visitor's burning question.
"When we read one of the notes which asked whether fairies were real, I had to scrawl upon it in green crayon, "Yes we are.""
Whether built by fairies, or by a man and his young son, we're just glad that this little piece of delight came to our park. Thanks Tony and Rio!
Sarah B.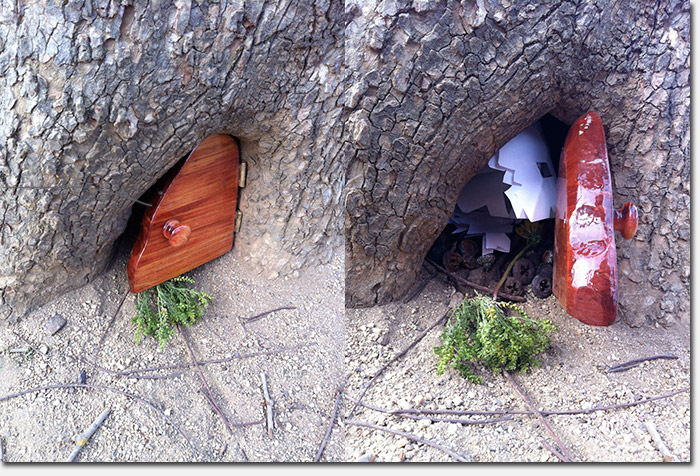 Tony and Rio's door, filled with offerings from visitors. Photos by Erica Reh