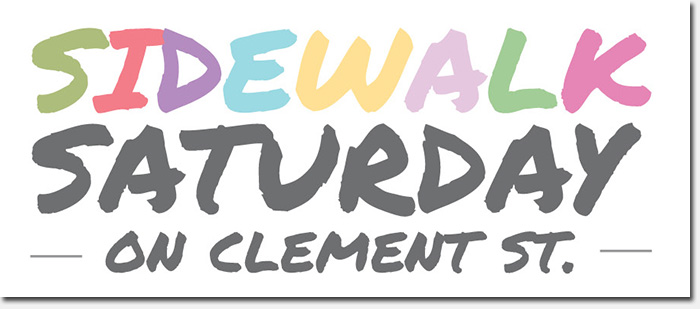 This Saturday from 11am until 7pm, merchants along Clement Street from Arguello to Park Presidio will be hosting a sidewalk sale, featuring special offers and activities.
Many Clement Street merchants will be participating in the event, and we were able to get information from a few of them about what they've got in store for shoppers…
Covet, located at 398 Arguello, will have wine and sweets on hand for visitors, as well as up to 60% off on their clothing and handbags. They'll also be giving away a gift certificate in a raffle.
On the 200 block of Clement, be sure to stop by Kisha Studio (210 Clement) for free drinks and snacks, plus a sale rack featuring $20 tops and $30 dresses. Next door at 212 Clement, Seedstore will have sale items outside, vintage pieces and jewelry from local designer Julia Szendrei.
Shopping can work up an appetite, so you may want to pop in Toy Boat Dessert Cafe (401 Clement) for a treat. They told us they'll be cleaning house for the sidewalk sale, selling old inventory from toys to coffee mugs, "all at cheap prices".
Foggy Notion Boutique (275 6th Avenue) will be featuring many local vendors during Sidewalk Saturday, including tea tastings, tea snacks, vintage tea ware from Fox & Moon Tea, handmade wooden planters, chalkboards, and cutting boards from 265 Design, plus vintage clothing and handmade jewelry from Heritage Mercantile, Valerian Jewelry, and Our House Vintage & Design.
The infamous Clement Street "pole gardener", known in real life as Aram M., will also be at Foggy Notion. Come meet him and pick up tips, plants and supplies to create your own pole garden.
If you need to take the edge off while you're shopping, take a pause at the 540 Club (540 Clement). Bring your own t-shirt and get a free screen printing on the spot courtesy of studionico.
And if shopping makes you hungry, you can fill up at Hawaiian eatery Grindz (832 Clement), where Chef Bradley Lum will be adding some new items to the day's menu including Spam Katsu Musubi – spam breaded with toasted bread crumbs on top of a furikake calrose rice cake wrapped in nori, and Li Hing Pineapples – fresh pineapple wedges dusted with Li Hing powder made from dried plum skin.
We got some additional info on other merchants' activities during the event:
– $1 Drink Special at Cumaica (200 Clement)
– FREE Carne Adovada at Q's Restaurant (225 Clement) starting at 2pm to roughly 4pm (or until they run out), compliments of the Clement St. Merchants Association
– 15% off all food + drinks at Blue Danube (306 Clement) from 11am-5pm
– Fully stocked sales bins outside Green Apple Books (506 Clement)
Park Life (220 Clement), Pretty Please Bakeshop (291 3rd Avenue), and Kumquat (147 Clement) will also be participating.
Those are just a few of the special sales and activities that will take place on Clement Street this Saturday. So put on your shopping shoes and walk over to support your local merchants!
Sarah B.