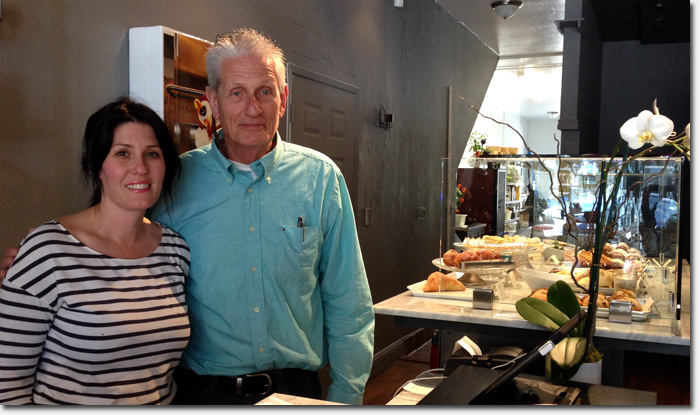 Heartbaker owner Sybil Johnson with her father, Mark
This past weekend marked the opening for Heartbaker, a new cafe / bakery located at 1408 Clement near 15th Avenue. The cafe received some early buzz on local food blogs last Friday, and when we stopped in on Sunday afternoon, the place was already hopping with new customers.
Heartbaker is the lovechild of pastry chef Sybil Johnson, who is returning to the retail food business after taking some years off to be a Mom. Johnson had past stints as a pastry chef at some high-end San Francisco eateries, including Aqua, the Fairmont Hotel and Kokkari. But after not finding work right away, she ultimately decided she'd rather open her own place and work for herself.
She says she went back and forth between wanting to open a full-scale restaurant or just a bakery. Heartbaker is a nice blend of both – an assortment of pastries, small sandwiches, quiches, cupcakes and cookies – that will satisfy a wide range of palettes and appetites. And it's a comfortable space where you'll want to spend some time and have a nice meal.
Heartbaker is still awaiting their beer and wine license, but Johnson expects it to be approved within the next couple of weeks. Once it is, she'll add more savory items to the menu, and stay open into the evenings for dinner fare.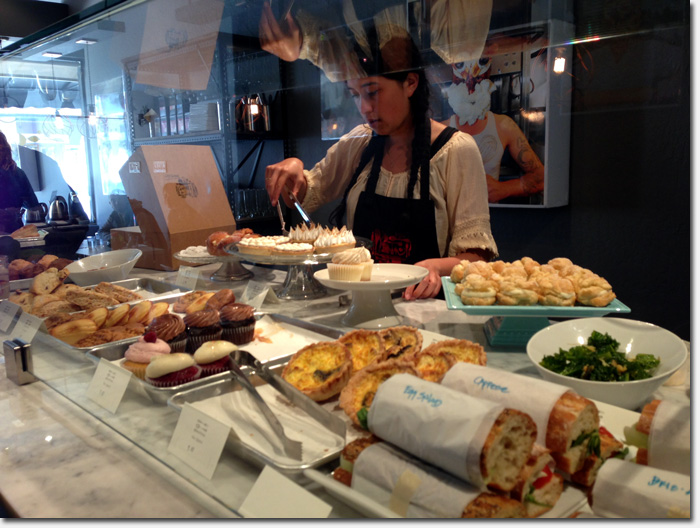 The space at 1408 Clement has been empty since Chapeau! vacated it in mid-2009 and moved to the second block of Clement. In February, we saw the first Heartbaker sign on the door that promised "Coming Soon!".
Fast forward a few months and Johnson was still tied up in city red tape trying to open. They kept neighbors updated with letters on the door that promised they were still working on things. Johnson's father, Mike Johnson, who is a partner in Heartbaker, said it was a challenging journey to get to opening day.
But they made it and the neighborhood is happy to have them. The space looks great inside. Cool grey walls and a white, marble top counter make it feel warm, cozy and fresh. There is table seating for about twenty, and a few chairs at the counter.
Heartbaker definitely wins for some of the most unusual photos we've ever seen at a cafe or bakery. Large portraits of the Heartbaker staff hang on the walls, each of them wearing baked goods "masks". One has a a faceful of chocolate chip cookies, another covered in puff pastries.
The cafe is on the north side of the street and gets great mid-day and afternoon sun. They'll be adding outdoor seating soon, but in the meantime patrons can sit on two stone benches out front that are holdovers from the Chapeau! days. There is also a large back patio on the property, but they're unsure if they will open that up for seating.
One of the best parts of Heartbaker opening for Johnson? Her short commute to work. She lives just a few blocks away with her husband and two sons, all of whom were in the cafe when we stopped by. The boys were reading on bean bag chairs back near the kitchen ("They've already found their space," Johnson said), and her husband was working behind the counter.
Heartbaker is open Tuesday through Sunday from 7am until 5pm (closed Mondays). In a few weeks, they'll add additional evening hours, staying open until 9pm on Tuesday, Wednesday and Sundays, and until 11pm on Thursday, Friday and Saturday nights.
Stop in and welcome them to the neighborhood!
Sarah B.